A naturally pink rice crispy treat for Valentine's Day, birthday parties, or even just an afternoon snack!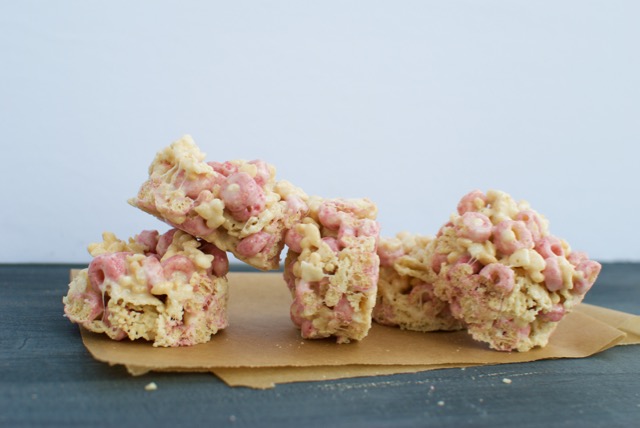 Just when we've gotten into a healthy eating groove after the holiday cookie frenzy, Valentine's Day pops up. Though it's not as intensely focused on sweets and doesn't last as long, those red-and-pink M&M's on display everywhere sure do look tempting!
In an effort to distract Lucy (and myself) from all the artificially colored store-bought treats we saw at Target the other day, I suggested we make pink Rice Krispie Treats together (using all natural ingredients). We made these that afternoon, and plan to do so again for our own little Valentine's Day party at home.
The key with this recipe – if you're aiming for more natural treat – is to choose ingredients wisely. We used:
Love Grown Foods Strawberry Power O's – perfectly pink!
Barbara's Brown Rice Crisps (like Rice Krispies)
Rice Chex (we had a few handfuls left from a previous recipe)
Organic Valley pasture butter
Elyon all-natural marshmallows (no artificial colors, flavors or corn syrup)
These chewy, crispy cookies are even more delicious than the Rice Krispie treats we all grew up with – I think thanks to the strawberry cereal and natural vanilla flavor in the marshmallows. And of course, their pink color will appeal and feel festive to kids and adults alike.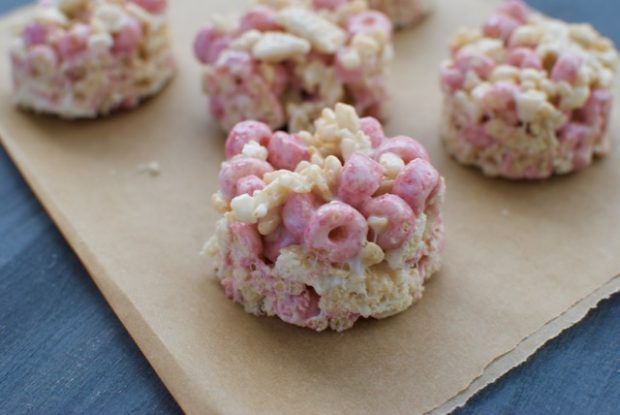 Naturally Pink Rice Crispy Treats
A naturally pink treat for Valentine's Day, birthday parties, or even just an afternoon snack!
Ingredients
10-oz bag mini marshmallows
3 Tbsp organic butter
½ tsp vanilla extract
3 cups crispy rice cereal (Barbara's, Erewhon, etc) or any mixture of rice cereals
2.5 cups flavored cereal (Love Grown Foods Power O's, Bitsy's Brainfood Green Berry Blast, or EnviroKids Puffs)
Instructions
In a large pot, melt butter and marshmallows over low heat until smooth. Stir in vanilla extract.
Remove pot from heat and stir in the cereal, 2 cups at a time.
Use a spatula to scrape mixture into a lightly greased 8x8 or 9x9 baking dish. Rub a little butter or oil on your hands and use them to lightly press the mixture flat.
Let cool 30 minutes then cut into squares or shapes.