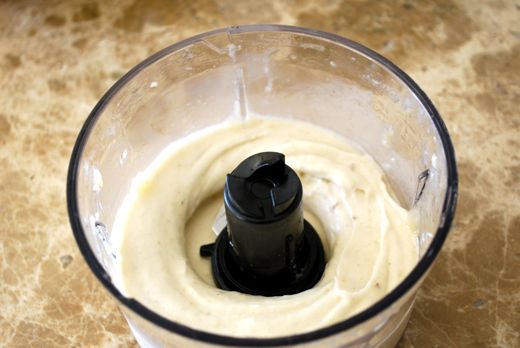 Yes, you read correctly:  homemade soft serve made from only one ingredient.
What's the catch?  There isn't one, unless you were expecting traditional frozen yogurt or ice cream made from dairy.  This soft serve tastes just like ice cream, but it's simply whipped frozen bananas.  That's it!
Might sound weird, but once you taste it you won't care what it's made of — you'll just eat!
I got this idea from another food blogger, but I can't remember who.  Maybe it was this woman's one ingredient ice cream?!
One Ingredient Soft Serve Ice Cream
Ingredients
4 frozen ripe bananas, cut into chunks
½ a banana at room temperature
Instructions
Place the frozen banana chunks in a food processor and pulse until a crumbly mixture forms. Add the piece of room temp banana, then let the food processor run until the mixture is smooth and whipped-looking. Scoop into bowls and serve as you would ice cream.
Notes
If you want a taste that's a little more tart or less banana-ish, stir some plain yogurt into the banana mixture after removing it from the food processor. That's what I did for Lucy, who wasn't a big fan of the banana on it's own. Mixed with a little plain YoBaby she gobbled it down. The perfect dessert for a baby!