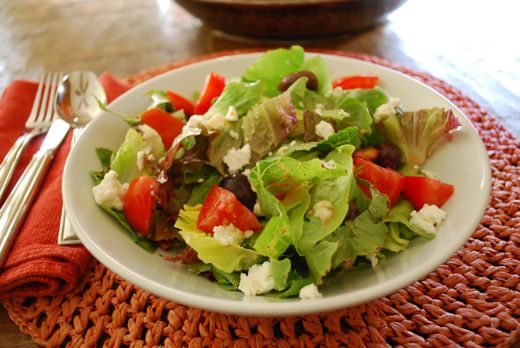 We eat salad almost every night.  Whether it's our entree or a side dish, it's a part of the meal that my husband and I both look forward to.  To keep life easy, we usually eat some version of the same salad for about a week, then change it up the next week.  This method reduces food waste, since we just buy a few salad ingredients at a time, and also allows us to experiment and improve on the salad as the week goes on.  Here's an example of one salad that we made in several different ways:
The first night, we had a basic Greek side salad (pictured above). Crisp fresh lettuces — buying good lettuce really makes a difference — chopped tomato, Greek olives, good feta, and a lemon vinaigrette made with fresh lemon juice, Dijon mustard, olive oil, salt, & pepper.
The second night, I added some leftover sauteed veggies — zucchini, yellow squash, onion, and asparagus — and some fresh oregano.  Used the same vinaigrette.
On the third night, we turned this salad into more of an entree by adding garbanzo beans and placing a veggie patty on top.  By this time, it was nearly the end of the week and we didn't have any meat or eggs, so I dug around in the freezer and found these veggie patties.  We were also out of lemons, so I made the same vinaigrette but used red wine vinegar instead of the lemon juice.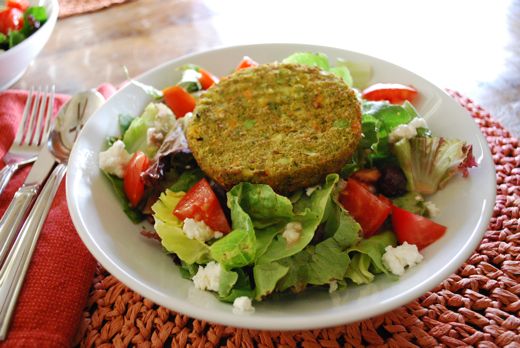 (Before you think "that's all they ate for dinner?!" please know we also had big helpings of yogurt with fruit and granola…another go-to when we don't have much food in the house).
Here are some other salad ideas with variations:
Arugula with strawberries, goat cheese, and balsamic dressing, to which you could add…
Sliced almonds or candied pecans/walnuts
Cooked chicken breast pieces
Cucumber slices and blueberries
Baby spinach with tomatoes, blue cheese, and sunflower seeds…
Sliced boiled eggs and grilled shrimp
Use Pepitas in place of sunflower seeds and a shaved hard cheese (like Parmesan, Romano, Manchego) instead of the blue
Romaine with halved grapes, walnuts, celery, and blue cheese…
Cubed chicken and avocado
Chopped green onion and fresh basil
Fresh cut orange segments
These are just a few of the options my friend Angie — who recently wrote the guest post about her healthy but terribly boring diet — could try in order to spice things up a bit.  The options for salads are really endless!