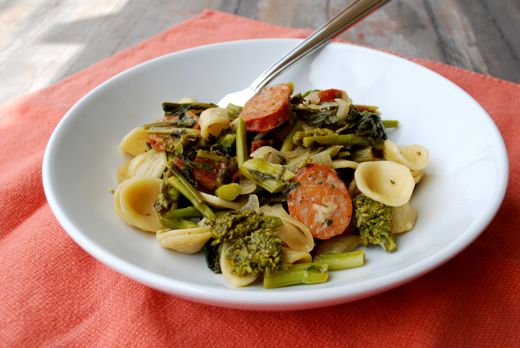 Pasta often gets a bad rap, but it can actually be a great way to serve a balanced meal in a tasty form.  The key is to add more vegetables than noodles to the dish, and to add flavor with wine, citrus, and/or fresh herbs instead of loads of heavy cream, butter, and cheese.
This Orecchiette (little ear-shaped pasta) with Broccoli Rabe, Asparagus, and Sausage, is flavorful and satisfying but won't weigh you down.  If you haven't cooked with broccoli rabe (looks like a combo of baby broccoli and collard greens) before, don't be intimidated — it's easy to cook and hard to mess up.  If you prefer, you could use any other dark leafy green in this recipe, as well as any other small pasta noodle you like.
Orecchiette with Broccoli Rabe and Sausage
Ingredients
8 ounces Spicy Chicken Sausage, pre-cooked, sliced
8 ounces Orecchiette
1 small Yellow or Brown Onion, thinly sliced
½ cup White Wine
½ cup Grated Parmesan Cheese
1 pinch Red pepper flakes
1 bunch Broccoli Rabe, chopped into 2 inch pieces
1 bunch Asparagus, cut into 2 inch pieces
¼ cup Fresh Lemon Juice, from 1 lemon
Instructions
Place a large deep-sided skillet over medium heat. Add 1 Tbsp olive oil and the sausage slices. Let sausage slices brown for 4-5 minutes (without touching or stirring), then stir so that the other sides brown for the same amount of time. Remove sausage to a plate and set aside.
Bring a large pot of water to a boil. Add a generous pinch of salt then the pasta. Cook according to package directions.
While you wait for the noodles to cook, in the same skillet you cooked the sausage, add another Tbsp of olive oil, the onion, and a sprinkling of salt & pepper. Cook ~5 minutes until onion has softened and is translucent. Add wine and stir until about ½ the wine is absorbed. Add broccoli rabe to the pan and stir until wilted but still bright green (2-3 min), then add asparagus and red pepper flakes. Cook all the veggies for another 2-3 min, then return sausage to the pan.
Drain pasta, then add it to the skillet with all the veggies. Add lemon juice, toss to combine, then pour pasta mixture into a large serving bowl. Drizzle with another Tbsp of olive oil, sprinkle with the Parmesan cheese, and serve.