The following post – which includes one of my all-time favorite easy recipes – is sponsored by Wolf.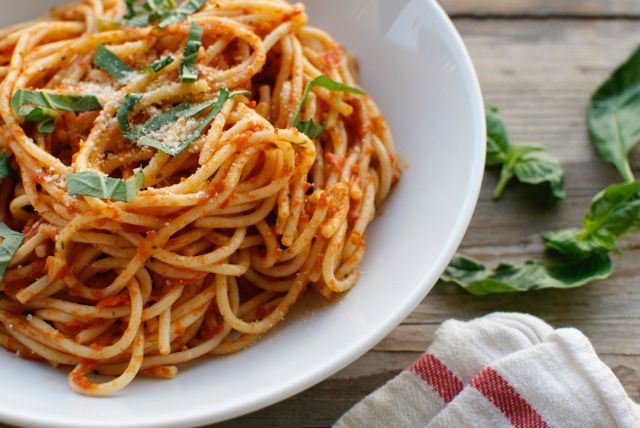 When I was in graduate school in Boston, my friends and I got together every Sunday night to watch The Sopranos over Italian food and cheap wine.
Our meals were simple. Sausages with sautéed peppers and onions, bread dipped in marinara sauce, cheese pizza on dough we bought at the neighborhood pizza joint. None of us knew much about cooking, and since we were all students or in new entry-level jobs, we didn't have big food budgets or fancy kitchens.
But we had so much fun. And this weekly experience – though casual and even comical (sometimes we had to share forks or plates!) – really began my love for cooking and entertaining.
One week, I spotted a recipe for no-cook tomato sauce in the free newspaper that was distributed on the subway every morning. It was summertime and there were ripe tomatoes everywhere, so I clipped the recipe and made a version of it the following Sunday. This super simple sauce, which we tossed with hot spaghetti noodles, was so delicious that we ended up making it again and again.
Thirteen years later, it remains one of my favorite summertime meals.
(Though now, I make it with my kids instead of a steady stream of Two Buck Chuck 😉 ).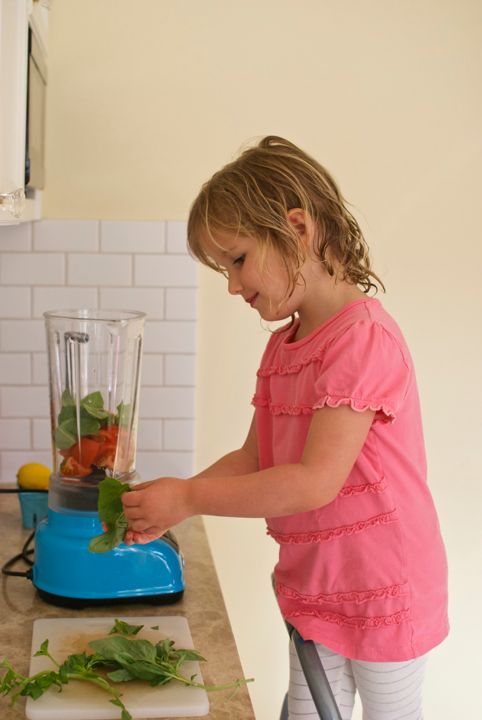 This meal is perfect for involving the kids, since the recipe doesn't require any cooking beyond boiling some noodles. While you rough chop tomatoes, kids can pick basil leaves off the stem, then help blend up the sauce.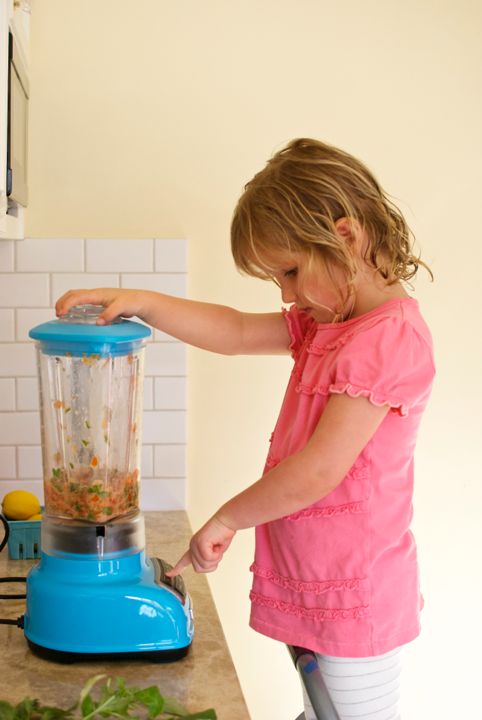 Once the pasta is ready, you simply toss it with the fresh sauce and serve with a sprinkling of Parmesan cheese or more basil leaves. That's it!
It's meals like this – that are quick to prepare and use minimal ingredients – that have allowed my family to reclaim our kitchen. To continue cooking and eating at home, despite all the obstacles that can get in our way.
For more inspiration, check out the video and recipe ideas on Reclaimthekitchen.com, and don't miss these easy dinner recipes created by some of my other favorite bloggers:
Country Sausage Hash with Steamed Eggs
Easy Homemade Egg Noodles – a perfect match for my No-Cook Tomato Sauce!

Pasta with No-Cook Tomato Sauce
This no-cook pasta sauce is ready in 5 minutes, and is the perfect way to use summer's tastiest tomatoes!
Ingredients
8 medium-large ripe tomatoes (the fresher and more flavorful, the better!)
1 handful fresh basil leaves
1 clove garlic (use more if desired)
4 Tbsp extra virgin olive oil
Salt & pepper to taste
12 oz spaghetti or any pasta you like
Instructions
Bring a pot to boil and cook pasta according to package directions.
While pasta is cooking, cut tomatoes into quarters and place in a blender along with the garlic, basil leaves and 2 Tbsp olive oil. Pulse until sauce has formed, but still has some texture to it (I like to leave some chunks of tomato).
Taste sauce and season with salt & pepper as desired.
Drain cooked pasta and return to pot. Toss with the remaining 2 Tbsp olive oil then pour all the sauce from the blender into the pot and toss to combine.
Serve with grated Parmesan cheese and more chopped fresh basil leaves.
Any tips or ideas that have made family mealtime easier at your house? I'd love to hear 'em!
This post is brought to you by Wolf, as part of their Reclaim the Kitchen campaign. As always, thoughts and opinions are 100% my own. Thank you for supporting this campaign and my blog!