Peanut Butter & Co. peanut butter and Stonyfield yogurt are two products that often appear on my breakfast table, so when these companies asked me to participate in their Nutty About Yogurt Recipe Contest, it only took me a second to say YES!  Things got more challenging from there though, because what to make?!  Peanut butter and yogurt go together so well – in smoothies, oatmeal, baked goods, bread pudding to name a few – that it took me awhile to finally settle on Peanut Butter Pancakes with Chocolate Yogurt Cream.  I'm glad I did though, because these babies are so good!
Now, only you can help me win this contest!!!
Please vote for my pancakes here! 
Simply by voting you'll be entered to win one of 5 prize packs from Stonyfield and Peanut Butter Co, valued at $100 each!  And, the first 20,000 voters will receive $1.00 off coupons from both companies!
You can view the entire pancake recipe here, but here's a little more detail to whet your appetite…
The pancakes are fluffy, nutty, and protein packed thanks to the addition of both yogurt and peanut butter.  So they don't just taste good – they also fill you up with healthy energy that lasts throughout a busy morning.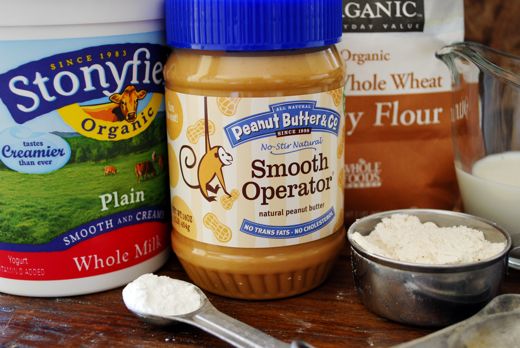 And to top them off?  A large dollop of creamy, smooth Chocolate Yogurt Cream (which by the way, makes a fabulous fruit dip if you are lucky enough to have any leftover).
Made with 2 of my favorite foods + a little heavy cream (a splurge, yes, but worth it this time!)
Thank you so much for supporting me in this contest!  You are the best readers a blogger could ask for!