Prep this pear and almond butter baked oatmeal the night before and wake up to a healthy breakfast all week long!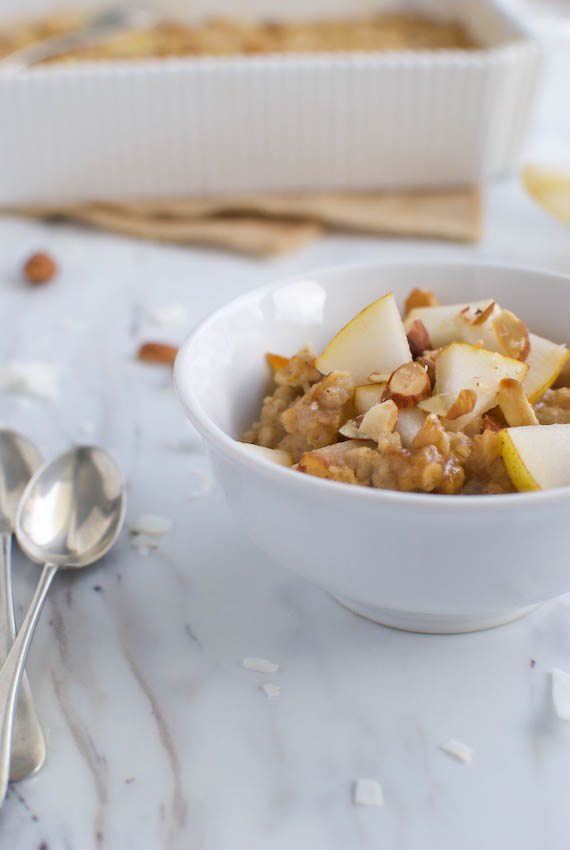 In 2013 I visited Earthbound Farm with a small group of bloggers. I loved this trip for many reasons, but one of the lasting highlights has been my friendship with fellow blogger Ashley, who I met on the trip.
When I think of Ashley, two things immediately come to mind: photography and breakfast. Ashley is an incredibly talented and accomplished food photographer, and has been instrumental in turning my own photos from scary to at least decent.
She's also the biggest breakfast lover I've ever met. On every trip we've been on, I look forward to seeing her wake up and scan a table full of breakfast options then put together a unique and delicious concoction that she of course then captures beautifully on camera. And she's been known to eat not just one breakfast but two — one sweet and one savory 😉
In a few short months, my sweet friend Ashley is going to become a mama! So today, I'm honored to share a breakfast recipe with you that I've created for her virtual baby shower: Pear and Almond Butter Baked Oatmeal.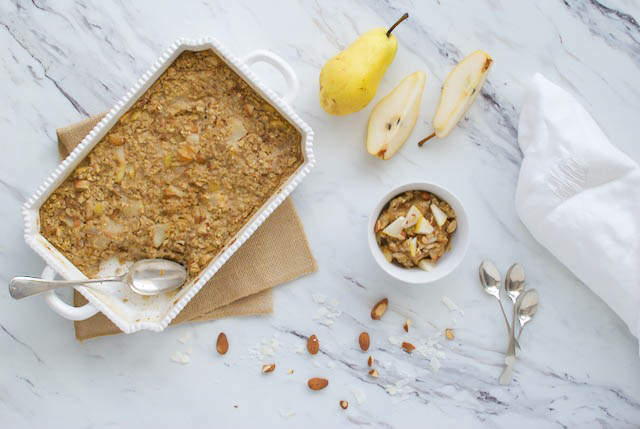 This easy, fall-inspired dish reminds me of Ashley not only because it's oatmeal – one of her favorite food groups – but also because it's gluten-free, dairy-free and refined sugar-free. It's hearty enough that you won't need that second breakfast…though if you choose to have seconds, neither she nor I will judge.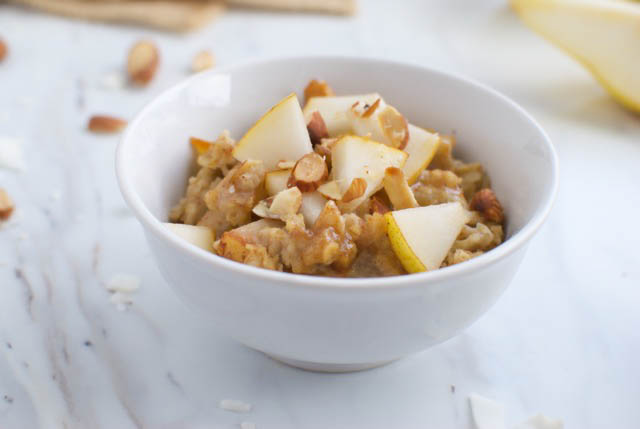 You can easily make this dish the night before, so it's perfect for a holiday brunch or a busy weekday morning.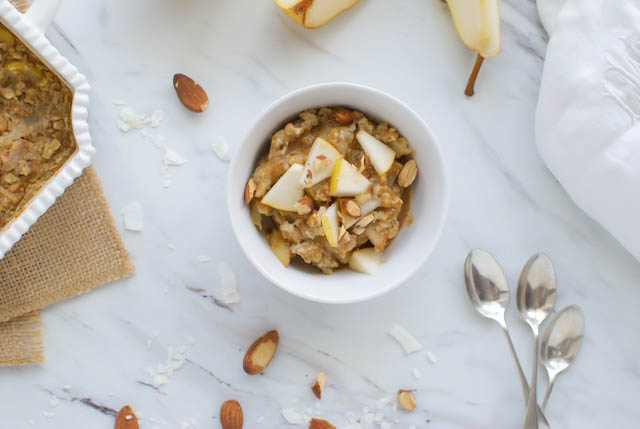 Many other fabulous cooks have also whipped something up for Ashley's baby shower, so if you're looking for more breakfast inspiration, feast your eyes and tastebuds here:
Cornbread Waffles with Maple Mascarpone Schmear by A Couple Cooks
Eggs Florentine by Brooklyn Supper
Homemade Nutella Toasts by The Faux Martha
Homestyle Vegan Grits with Tempeh Sausage & Brussels Sprouts by The Full Helping
Apple Cinnamon Oatmeal Waffles by Making Thyme for Health
Winter Vegetable Breakfast Skillet by Flourishing Foodie
Deep Fried Nutella French Toast by I am a Food Blog
Verde Shakshuka by Beard and Bonnet
Fried Chicken and Waffles with Apple Butter & Kale Slaw by Climbing Grier Mountain
Fancy Avocado Toast by A Beautiful Plate
Hope you enjoy all of these goodies and congratulations, Ashley! xoxoxo

Pear and Almond Butter Baked Oatmeal
A warm, hearty fall breakfast that you can easily make ahead. Gluten-free, dairy-free, and most importantly: sure to be a hit with the whole family!
Ingredients
1½ cups quick oats (gluten-free if needed)
1 tsp cinnamon
¼ tsp nutmeg
pinch salt
2½ cups chopped very ripe pears (about 2 large pears - I used Bartlett)
½ cups almond milk (I used Califia Farms Toasted Coconut Almond Milk)
¼ cup coconut cream (OK to substitute with coconut milk)
2 Tbsp almond butter
1 Tbsp maple syrup
chopped almonds and coconut flakes for serving (optional)
Instructions
Preheat oven to 350.
Combine oats, cinnamon, nutmeg and salt in an 8x8 baking dish.
Place almond butter, maple syrup, and 1 Tbsp of the coconut cream in a small glass bowl or pitcher and microwave for 30 seconds until soft. Use a small whisk or fork to make a smooth sauce.
Pour half of this almond butter mixture into the baking dish, along with the chopped pears, almond milk, and remaining 3 Tbsp of coconut cream. Stir until ingredients are incorporated.
Bake oatmeal for about 25 minutes or until oats are fully cooked.
Remove from oven and drizzle with remaining almond butter mixture.
Serve warm with chopped almonds, coconut flakes, and more almond milk if desired.