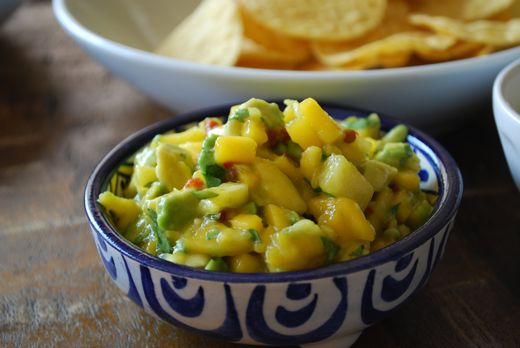 Something about summertime makes me want to dig into huge helpings of fresh fruit salsa.  I love making stone fruit salsa, cherry tomato & strawberry salsa (recipe coming soon), and this pineapple mango salsa with avocado.  To keep the calories of your salsa-based snack moderate, count out one serving of tortilla chips (usually 10-15 chips) and put them in a bowl, then put the bag away to prevent unconscious grabbing.  If you load up each chip with a generous portion of salsa, you'll be satisfied without blowing your healthy diet on chips.  Here's how I make my pineapple mango salsa:
Pineapple Mango Avocado Salsa
Ingredients
2 cups of pineapple
2 cups of mango
1 large or 2 medium avocado
1 jalapeno or 1 chipotle pepper canned in adobo, finely diced
1 handful fresh cilantro
½ a small red onion, finely diced
Juice of 1-2 limes, to taste
Salt & pepper to taste
Instructions
Chop all the fruits and veggies and combine gently in a large bowl. This salsa gets better with time, so keep the extra in the fridge up to 4 days for even more intense flavor. It also makes a great salad topping, tostada topping, or burrito ingredient.