It's Friday afternoon, and time for a cocktail!  I made this Pomegranate Moscow Mule for my POM party guests recently, and it quickly became everyone's new favorite drink.  The combination of ginger, lime, and crunchy pomegranate seeds makes this cocktail refreshing and comforting at the same time.  Not to mention the colors are ideal for any upcoming holiday meal or party.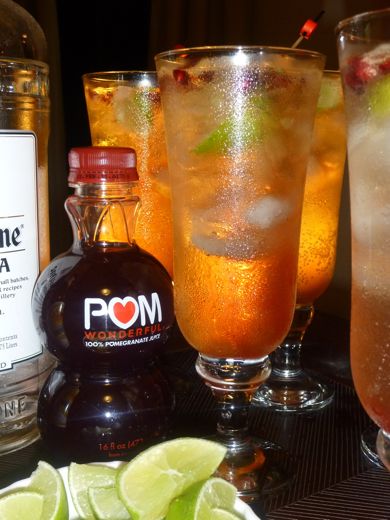 Pomegranate Moscow Mule
Ingredients
2 ounces POM 100% pomegranate juice
2 ounces Vodka
12 ounces Ginger Beer (like Reed's), 1 bottle
Ice cubes
Lime wedges
¼ cup Pomegranate Seeds
4 piece Candied ginger
Instructions
Fill 2 glasses or glass mugs with ice. Pour 1 oz vodka in each glass, then add ginger beer. Squeeze a couple of lime wedges into each drink, then toss in the wedges themselves. Stir to combine, then top with a generous splash of POM juice.
Sprinkle some pomegranate seeds on the top of each cocktail, then garnish with a few pieces of candied ginger on a toothpick.
Need help opening and seeding a pomegranate?  Watch this quick video.
Note: You can easily make this beverage non-alcoholic.  Just skip the vodka and add some extra ginger beer or a little club soda.  Regardless of which version you make, you'll have happy guests!