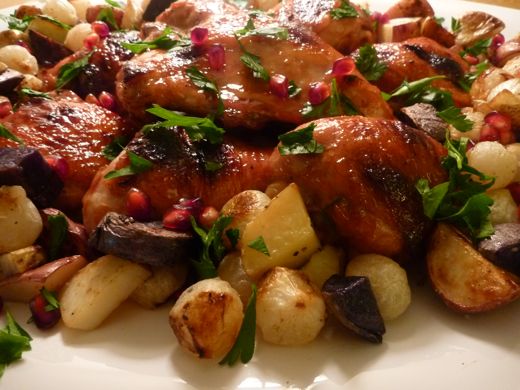 The main course at my recent POM dinner party was Pomegranate BBQ Chicken, which I served with roasted baby potatoes and mini pearl onions.  As you can see, it was a popular dish…
and the best part for me was, it was incredibly easy to make.
Pomegranate BBQ Chicken
Ingredients
2 tablespoons Extra Virgin Olive Oil
2 teaspoons Kosher salt
3 pieces Chicken thighs, bone-in and skin-on
3 pieces Chicken Breast Halves, bone-in and skin-on
3 pieces Chicken drumsticks
½ teaspoon Ground black pepper
1 teaspoon Ground Cumin
1 tbsp Dijon Mustard
¾ cup POM 100% pomegranate juice
¾ cup Smoky, not-too-sweet BBQ sauce
¼ cup Fresh Italian Parsley, rough chopped
¼ cup Pomegranate Seeds
Instructions
Preheat oven to 450. Trim extra fat off chicken with scissors or a sharp knife. Pat dry, then place on a foil-lined baking sheet. Drizzle chicken with olive oil, rub around so both sides are coated, then sprinkle both sides of chicken generously with salt & pepper.
Roast the chicken on top rack of oven for about 20 minutes or until skin is browned and chicken is mostly cooked-through. Meanwhile, prepare the sauce: place POM juice in a small pot and cook over medium heat until sauce has reduced by half. Remove from heat and stir in BBQ sauce, cumin, mustard, and hot sauce.
Remove chicken from oven and paint each piece generously with the sauce, on both sides. Return to oven and bake until chicken is cooked and sauce has caramelized/browned on top (see pic below), about 5-10 minutes. Keep a close eye on it so it doesn't burn.
Let chicken rest for 5 minutes after cooking, then place on a platter and sprinkle with chopped fresh parsley and pomegranate seeds.
Here's what the chicken should look like when it's ready to pull from the oven – browned on top:
Anytime I make chicken, I love to present it on a large platter with the vegetable or starch all around it.  Garnished with some fresh herbs, and in this case pomegranate seeds, this quickly turns a simple dish into an elegant dinner.
And the perfect salad to complement this meal?  Persimmon and Pomegranate Salad, one of my favorite fall dishes that also made an appearance at my POM dinner party.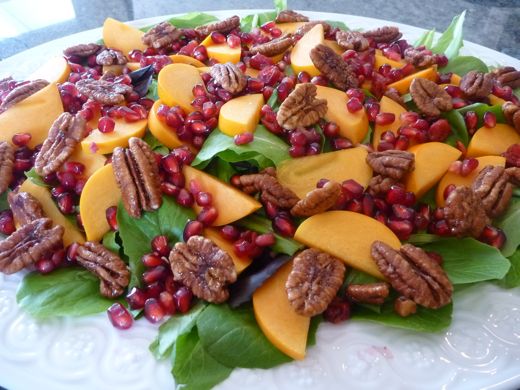 Persimmon and Pomegranate Salad
Ingredients
1 bag Baby Greens
2 whole Fuyu Persimmons
½ cup Pomegranate Seeds, Remove seeds from pomegranate
¼ cup Candied Walnuts or Pecans
2 ounces Soft Goat Cheese
¼ cup Balsamic Vinaigrette
Instructions
Spread baby greens in an even layer over a large platter. Remove the stem, slice the persimmons, then lay the slices atop the greens on the platter.
Sprinkle the candied nuts and pomegranate seeds over the salad
Crumble goat cheese over salad
Drizzle salad with Balsamic Vinaigrette
I usually serve this salad with Balsamic Vinaigrette, but this time I added a little twist: used the same recipe, but replaced the apple cider vinegar with POM juice.  Delish!
Not sure how to get the seeds out of a pomegranate? Learn here.