Looking for the perfect appetizer to go with your Pomegranate Moscow Mule on Thanksgiving?  Here it is: Citrus, Avocado, and Pomegranate Salsa.  I made this for my POM party the other day, and not only was it a huge hit with my guests, but its also now my favorite taco filling and topping for grilled fish or chicken.  Yum!  You can whip up a big bowl of this stuff in no time, and your hungry guests will happily nosh on it while you finish up dinner.  Its great served with tortilla chips or cinnamon pita chips.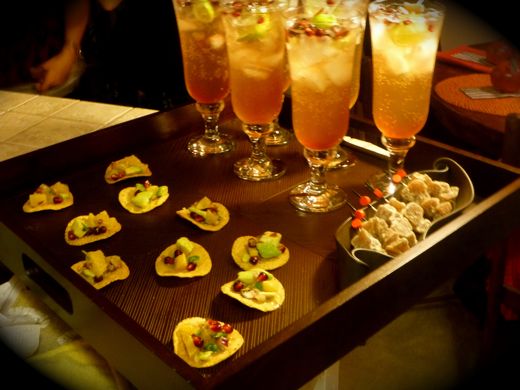 Learn here how to open and seed a pomegranate.
Pomegranate Citrus Salsa
Ingredients
1 tablespoon Extra Virgin Olive Oil
1 cup Fresh Cilantro, rough chopped
2 whole Avocado
¼ cup Red Onion, finely chopped
1 Lime, juiced
3 Orange, peeled and chopped
1 pinch Kosher salt
1 cup Pomegranate Seeds
1 Chipotle peppers canned in adobo
Instructions
Finely chop one Chipotle pepper and put it in a large bowl with the lime juice, cilantro, olive oil, and a generous pinch of salt.
Dice the avocados into small chunks and add them to the bowl, making sure they get coated in lime juice so they don't turn brown. Add the orange pieces, red onion, and pomegranate seeds and stir gently to combine.
Let salsa marinate for about 30 minutes (if you have time) so the flavors meld together, then serve with tortilla chips or cinnamon pita chips.