The Dole California Cook-Off (yesterday at The Grove in LA) was such a blast!  The finalist I was the sous chef for, Michelle, didn't win first prize, but she did win $1000 and we had a great time cooking up her Pork and Pineapple Quesadilla with Mandarin Crema.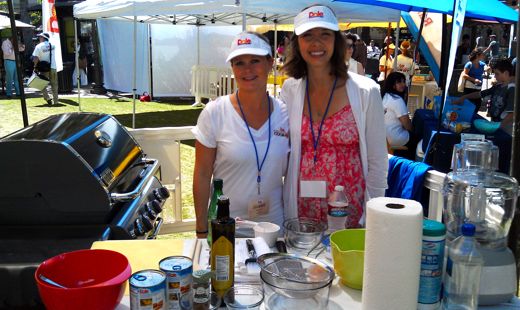 Each of the 3 finalists' dishes looked delectable!
But the judges felt that Jeannette's Dole Island Pork Sliders with Jicama Salsa were superior, so she was declared the $10,000 winner!
Want the recipe for her pork sliders? (which Chef Ben Ford said were the best sliders he'd ever tasted in his life! Mind you, he owns a killer restaurant, has eaten just about everywhere, and has even been on Iron Chef!)  Dole will have the recipe up on their site soon, and I'll be sure to share it with you here, too.
Thanks to everyone who came out to The Grove — the 55,000 person crowd was pretty impressive!