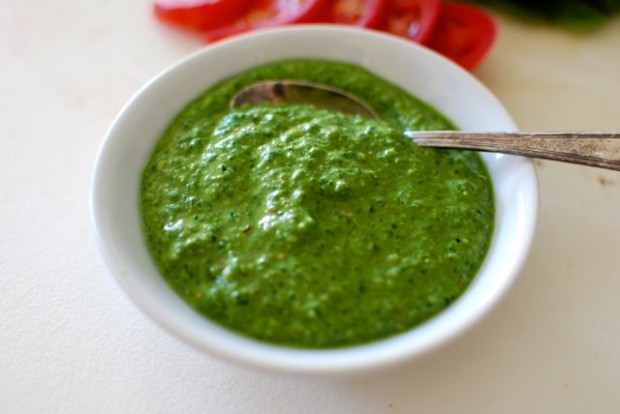 We always have tons of salad greens in the fridge, which means that every time we head out of town, I panic about putting all the greens to use before we leave 😉
Thus, the night before any trip – short or long – you can find me whirling around the kitchen as I blend, stir and grind our remaining greens into pesto, soup, sauce, dressing and smoothies. It's usually a scramble, but I'm always happy when I return to a fridge and freezer full of ready-to-eat green foods!
This happened just last week as we were leaving for San Diego. I was about to enjoy a little bagel with cream cheese when I spotted a half-eaten Costco-sized bag of Earthbound Farm's Power Greens (SUCH a delicious blend of baby kale, chard & spinach) in our produce drawer.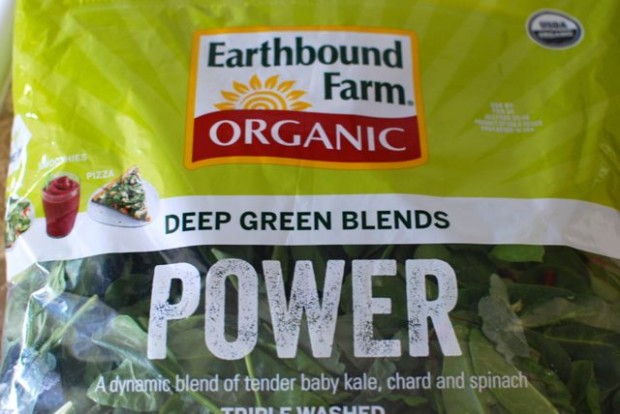 The bagel was looking a little bland anyway so I turned the Power Greens into a lemony pesto that I've since used on at least five different things.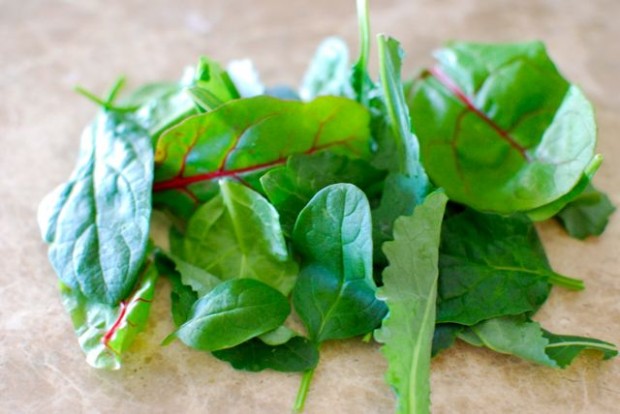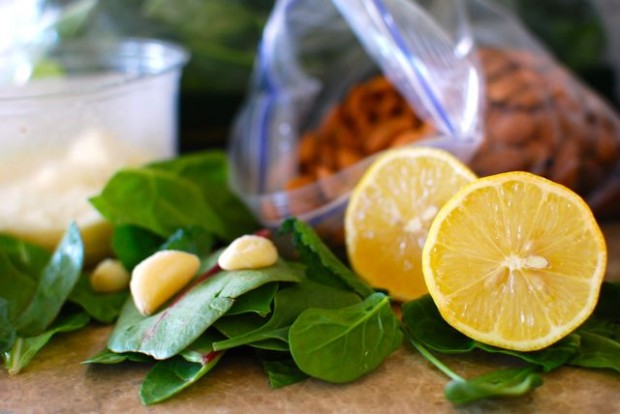 The cool thing about pesto is you can use any greens or leafy herbs, any nut, and any hard cheese (or leave out the nuts or cheese). You can also use a mixture of broth, oil and citrus juice to make it as rich or as light as you want.
For this pesto, I used the Power Greens along with grated Parmesan cheese, almonds, garlic, olive tapenade, lemon juice, vegetable broth and a little glug of olive oil.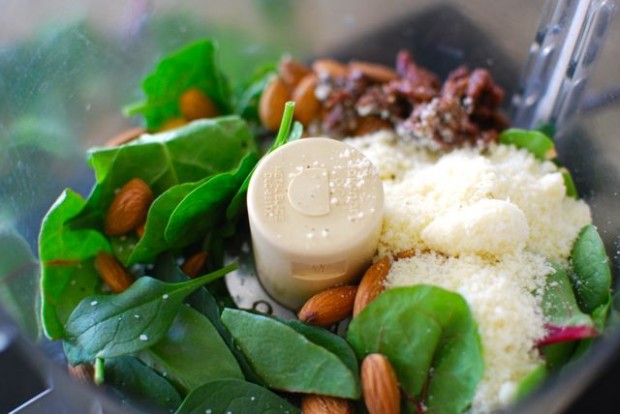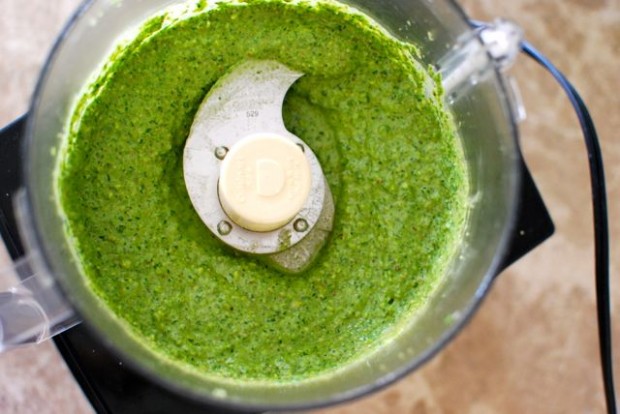 The result was a light, spoonable mixture that livened my bagel right up!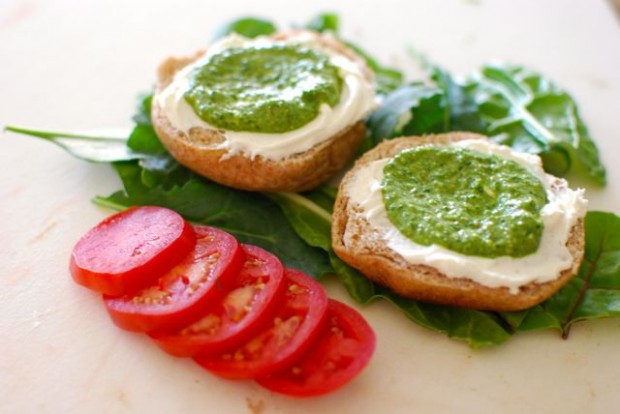 Here's the "recipe," but keep in mind that pesto is very flexible, and you can alter this according to your own tastes or the ingredients you have on-hand.
Power Greens Pesto
The perfect way to use baby salad greens that would otherwise go to waste!
Ingredients
4 cups Earthbound Farm Power Greens, packed
2 small cloves garlic
¼ cup raw almonds
¼ cup grated Parmesan cheese
2 Tbsp olive tapenade
¼ cup lemon juice (the juice of one large lemon)
¼ cup vegetable broth
¼ cup olive oil
Salt & pepper to taste (I used about ½ tsp salt)
Instructions
Grind the garlic and almonds in a food processor until finely chopped.
Scrape down, then add the greens, cheese, olive tapenade and lemon juice and blend until a paste forms.
Add the remaining liquid, keeping in mind that you may need more or less liquid depending on the consistency you're looking for.
Taste, then season with salt & pepper accordingly.
Serve on sandwiches, wraps, pizza, bagels, or mix with salad, roasted vegetables or pasta.
This post is part of my ongoing partnership with Earthbound Farm. Thank you for reading and for your support!