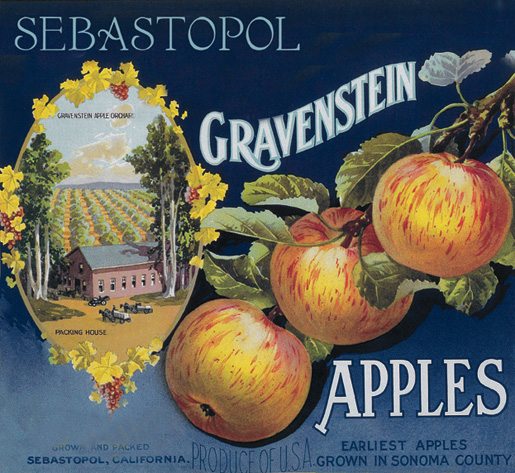 When you hear the term "endangered species," I doubt apples come to mind.  More like California Condor, Spotted Owl, Giant Panda, etc (side note: those were the only three I could think of off the top of my head, so I searched and found this list — wow.  Pretty mind-blowing).  But did you know that there are over 200 endangered American foods?  It's true, and Gravenstein apples are one of them.
Suburban development, the growth of wine grape production, and the importation of Chinese apple juice have slowly been pushing Gravenstein apple orchards out of their native territory of Sonoma County, CA.  And too bad, because these are one of the most perfect-tasting apples you can find, and great for cooking, baking, or just eating.
Before you get too sad though, I have good news!  Thanks to The Fruit Guys, a produce delivery company based in San Francisco, you can get a box of delicious Gravenstein apples this August, delivered right to your door, for just $20.  Your purchase will help support Sonoma's remaining Gravenstein apple orchards, so while you're sinking your teeth into a perfectly crisp apple, you can feel good about preserving one of our country's heirloom foods.  The season is short (just 2 weeks), so order your box today and enjoy!
**image above from here**