People often tell me that most of the fresh produce they buy ends up rotting in the fridge before they have a chance to eat it.  This used to happen to me too, until I started prepping my produce ahead of time.  It sounds like a hassle, but it's actually a time-saver, and eventually a money-saver too.  If you devote one hour on a weekend day to prepping all your produce for the week, I think you'll find that you eat more of it, both in meals and snacks.  Here's what I generally do to get ready for the week.
First, I prep my lettuce.  Its cheaper to buy heads of organic lettuce than small bags of pre-washed greens (though I do that sometimes too), and with the help of a salad spinner it's pretty quick to chop, wash & dry it yourself.  I wrap the lettuce in paper towels and put it in two separate plastic bags — one bag of chopped lettuce for salads:
and one bag of whole leaves for sandwiches, lettuce wraps, etc (you can always chop it quick later if you need to):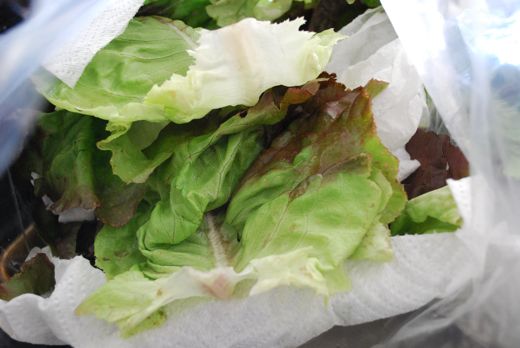 Then I prep a couple of veggies for snacking.  Usually carrots
and one other veggie, like snap peas, radishes, or cherry tomatoes (bonus – don't have to do anything to those besides put them in a bowl and store at room temperature).  Then I do two in-season fruits.  This week it was strawberries,
which I washed, sliced, and placed in a paper-towel lined bowl (the paper towel absorbs any excess water from washing so the berries don't get mushy).  I also washed some cherries: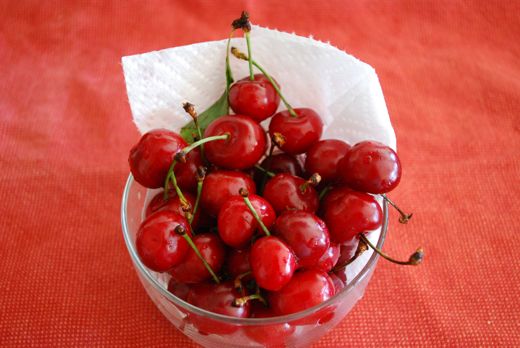 and then placed everything in the fridge.  Now it's easy to throw together salads, and when I'm hungry for a snack, I'm more likely to munch of these veggies and fruits than the less-healthy stuff that's in my pantry.  Yum!