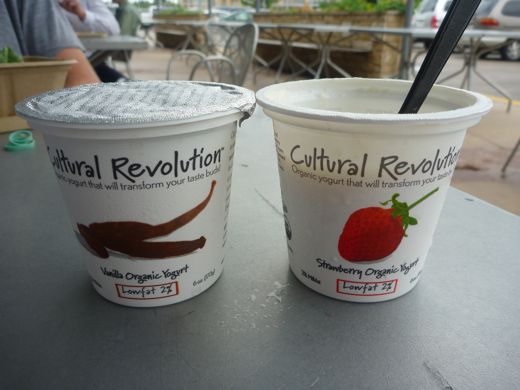 I love yogurt.  The other day, I found a new kind: Cultural Revolution, which quickly jumped high up on my list of favorite yogurts, especially because the nutritionals were almost unbelievable!  While most flavored organic low-fat yogurts have 120-150 calories and 20-30 grams of sugar per 6 oz cup, Cultural Revolution's are 72-95 calories and only 7-8 grams of sugar, depending on the flavor.  Amazing!  And the flavor, texture, and creaminess are so good, you would never know.
Since most of what we eat is loaded with sugar, it's refreshing to find a delicious product with a subtle sweetness.  Plus, it gives you an excuse to eat it with this for lunch:
Want more info on the best and healthiest yogurts?  Wondering what the difference is between regular and Greek yogurt?