Protein bars sound healthy, and most of them taste bad enough that they'd better be healthy or what's the point in eating them?!  So, are they?
It depends on the bar, but largely, no.
Most protein bars, snack bars, and meal replacement bars are little more than candy bars with some extra additives.  Sure their labels boast words like "thin," "slim," or "nutritious," but when you read the ingredients, you see that they are anything but.
What makes protein bars so bad?
Soy protein isolate.  A highly processed soy derivative, soy protein isolate is a poor quality protein that has been shown to increase estrogen levels in the body (see here why less processed soy is better).  It's also frequently made from genetically modified soybeans.
Tons of ingredients.  In general with packaged foods, fewer ingredients = higher quality food.  Protein bars have long ingredients lists which are often loaded with unidentifiable, highly processed, or artificial ingredients.
Tons of sweeteners.  Most protein bars have tons of sugar or other sweeteners.  Even the "low sugar" ones are super sweet thanks to artificial sweeteners and sugar alcohols (which by the way, can cause severe digestive distress).
Vitamins do not = healthy.  Adding vitamins to a packaged food does not make that packaged food healthy.  Period.
Unnecessary.  Most Americans get plenty of protein.  Sure, protein bars offer a way to beat hunger when you're on-the-go, but you're better off packing fruit + cheese, yogurt + nuts, or a baggie of trail mix for times when you can't eat a real meal.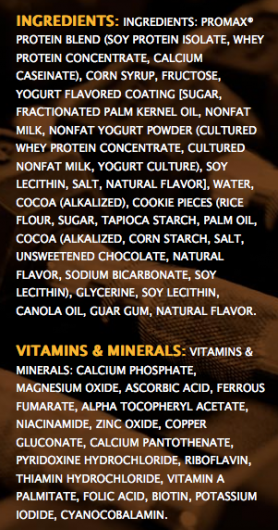 If you're in a pinch and need to choose a protein bar, look for bars with:
Fewest ingredients
Honey or sugar as the sweetener
Nuts and seeds for healthy fat & naturally occurring fiber
Oats or another whole grain as the first ingredient