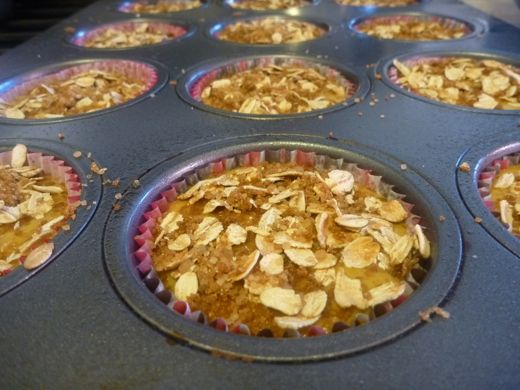 When you wake up on Christmas morning wanting to fill your belly with something other than candy canes, whip up these pumpkin muffins.  They'll fill your house with sweet holiday smells, and start your day off healthfully and deliciously.
Pumpkin Muffins
Ingredients
¼ cup Canola Oil
1 cup Canned Pumpkin
2 Large Eggs
1 teaspoon Vanilla Extract
¾ cups Light Brown Sugar
2 teaspoons Cinnamon
¼ teaspoon Ground Nutmeg
2 cups All Purpose Flour
1 cup Wheat Bran
1 teaspoon Baking Powder
1 teaspoon Baking Soda
1 cup Lowfat Buttermilk
1 teaspoon Kosher salt
2 tbsp Rolled Oats
Instructions
Preheat oven to 400. In a large bowl, whisk together pumpkin, brown sugar (leave 2 Tbsp of the sugar aside for the topping), oil, vanilla, and eggs until smooth.
In a separate bowl, sift or whisk together the flour, wheat bran (available in the bulk bins of the grocery store), baking soda and powder, spices (leaving aside ½ tsp cinnamon for the topping), and salt. After combining, add half the dry ingredients to the wet, then add half the buttermilk. Repeat until dry ingredients and buttermilk are mixed in (mix until just combined; don't over-stir).
In a small bowl, mix together the oats, remaining 2 tbsp brown sugar, and ½ tsp cinnamon. Place paper muffin cups in a muffin tin. Spray cups and top of muffin tin with nonstick cooking spray. Using an ice cream scoop or measuring cup, scoop enough batter into each up so the cups are almost full. Sprinkle a little of the oat-sugar mixture on top of each muffin.
Bake muffins for 18-22 minutes or until a toothpick comes out clean when you poke one of the muffins. Let cool for 5 minutes in the muffin tin, then remove muffins to a cooling rack and cool another 10 minutes before digging in.