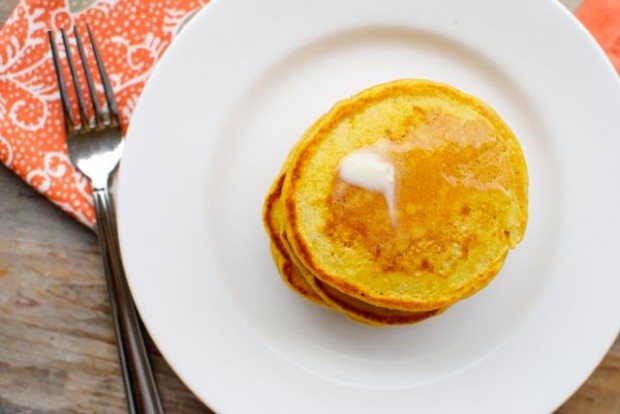 Nearly every Saturday morning, Lucy and I walk sleepily into the kitchen to make a batch of pancakes. In the spring and summer, we add fresh berries and peaches. In the winter, bananas and pears. But in the fall, it's always pumpkin.
We usually make our pumpkin pancakes with Greek yogurt or buttermilk, but last weekend we added fresh ricotta cheese and loved the result. These pancakes are thick, rich and fluffy. In other words, perfect 🙂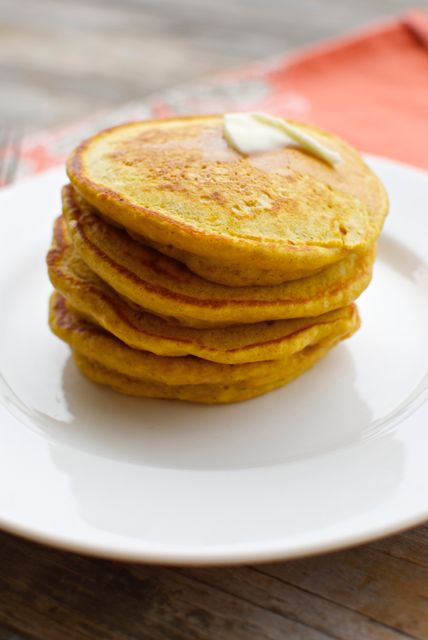 My favorite way to eat these is with a generous slather of butter, but Tyler and Lucy swear that warm maple syrup is the way to go. Either way, enjoy!
Pumpkin Ricotta Pancakes
These pumpkin pancakes are the perfect way to enjoy fall flavors in a weekend breakfast!
Ingredients
1 cup white whole wheat flour
½ cup all-purpose flour
2 tsp baking powder
½ tsp salt
½ tsp cinnamon
¼ tsp nutmeg
¼ tsp cloves
2 Tbsp canola or coconut oil
1 large egg
½ cup whole milk ricotta cheese
½ cup + 2 Tbsp canned pumpkin
2 Tbsp sugar
¼-1/2 cup milk
Butter, for greasing griddle and serving
Maple syrup, for serving
Instructions
Gently combine the first 7 ingredients (all the dry) in a small bowl. Set aside.
Whisk together the oil, egg, ricotta, pumpkin and sugar in a large mixing bowl.
Pour half of the dry ingredients into the wet and gently stir, then add ¼ cup milk and the remaining dry ingredients and stir until just combined.
If batter is very thick, add a little more milk until desired consistency is reached. (I used ⅓ cup milk). Thinner batter will make thinner pancakes.
Heat a griddle over medium heat.
Add butter to the pan and pour batter on to make pancakes. Cook 2-3 minutes or until bubbles start to form, then flip and cook an additional minute before removing to a plate. Serve immediately with butter and/or maple syrup.