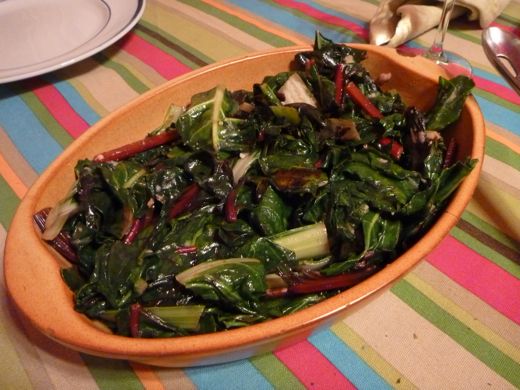 Today's guest post comes from Rebecca, who consistently posts unique recipes and delicious-looking photos on her blog Annie's Delectation.  When you're up for trying something new, head over there for some creative cooking ideas.
I recently had some collards and Swiss chard in my vegetable box, and not much time to cook them.  I was going to work several days in a row, and wanted them for my work lunches.  I work twelve hour shifts, so my work lunches are my main meal of the day and I try to include something green, something yellow or red, and something filling so as to include most of what I should eat for the day.  I'd put off my preparations, and now needed to cook them quickly in the morning before work.  My usual method of cooking greens is kind of laborious–I cut the stem and ribs off of the leafy part so I can start them cooking first and have everything end up tender–but I didn't have time for such refinements.  I decided to cook the stems and leaves together, and end up with a variety of textures, from tender to al dente.
I used Indian flavors, but if you wanted your greens to go with an east Asian meal you could just leave out the mustard seeds and substitute some soy sauce for the salt.
Easy Greens
Ingredients
1 Tbsp peanut oil (or whatever oil you have around)
1½? long knob of fresh ginger, peeled (here's how to peel it) & sliced into coins then into tiny matchsticks
1 or 2 fresh green chiles, chopped*
2 tsp brown mustard seeds
A big shallot or small onion, cut into rings
Salt to taste
2 bunches greens, washed and cut crosswise into long ribbons (Don't dry them–the remaining moisture will help steam them. Include the stems! Keep the varieties separate).
Juice of half a lime
Instructions
Heat the oil in a wide pan with a lid over medium-high heat. When it's hot, add the ginger, chile, mustard seeds, and onion. Cook, stirring, till the onion is beginning to brown, then add the toughest of your greens** along with a big pinch of salt. Stir them around, then cover and let cook till it's time to add the next batch of greens. Continue cooking, covered, till everything's done to your liking. Take off the heat, taste for salt, and mix in the lime juice.
Notes
If you only like a little bit of heat, use a jalapeno, but scrape out its seeds and white ribs and mince it. If you want four stars, use a couple of Serrano peppers and slice them into rings, leaving in the seeds.
*I added the greens sequentially in order of how long I thought they would take to be cooked to my liking. I added the collards first, giving them 10 minutes total. I thought the chard would be done after 4 minutes, so I added it 6 minutes after the collards. Turnip and mustard greens will take about the same time as chard. If I had been using spinach, I would have only given it about 1½ minutes.