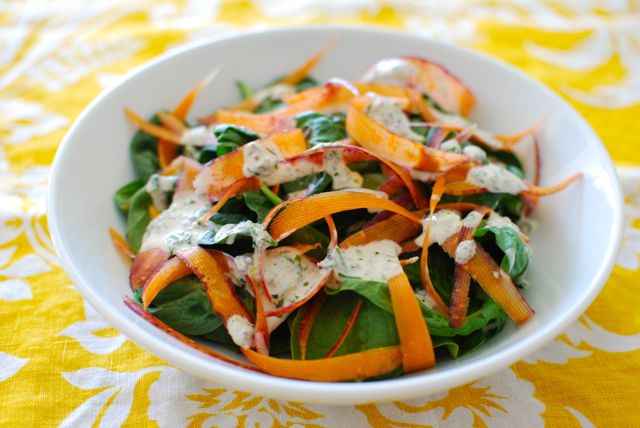 When I'm hungry and in a rush, I often overlook fresh veggies and go for something super quick and convenient like cheese and crackers. But with the right veggies and a tasty dressing on-hand, making a delicious salad be just as fast — and is almost always the healthier choice.
The other day I made a big batch of this Greek yogurt dressing, which I've been adding to pre-washed baby greens and whatever other veggies I happen to have in the fridge. Even the two-ingredient salad pictured above tastes amazing when drizzled with this flavorful, herb-packed dressing!
Greek Yogurt Dressing
Ingredients
1 handful baby spinach, arugula, or mixed greens
¼ cup fresh basil leaves
1 green onion, rough chopped
2 Tbsp red wine vinegar
2 Tbsp extra virgin olive oil
1 Tbsp olive tapenade (or 6 Kalamata olives)
½ cup organic nonfat Greek yogurt
Salt to taste
Instructions
Blend spinach, basil, green onion and olive tapenade in a mini food processor or blender until finely chopped.
Scrape down the bowl then add the vinegar, oil, Greek yogurt, and 2 Tbsp water and blend until dressing is smooth. Taste and add a pinch of salt if desired.
Add a little more water (or vegetable broth) to make the mixture more of a salad dressing consistency, or leave as is to use as a dip for vegetables.
Store extra dressing in an airtight container in the fridge for up to a week.
For this particular salad, all I did was place baby spinach leaves in a bowl and top them with shaved carrot "ribbons" (just use a vegetable peeler to shave thin carrot pieces — looks fancy but it's super easy) and the yogurt dressing.
So simple yet so good. While I noshed on this, Lucy enjoyed some carrots with the dressing as her dip.
Earthbound Farm and Stonyfield provided me with product coupons but this post is not sponsored and all ideas are my own.