This sweet potato hash cooks in just 15 minutes and has all the flavor of roasted sweet potatoes without the wait. Serve it as a side or make it a complete meal by adding a cooked egg on top.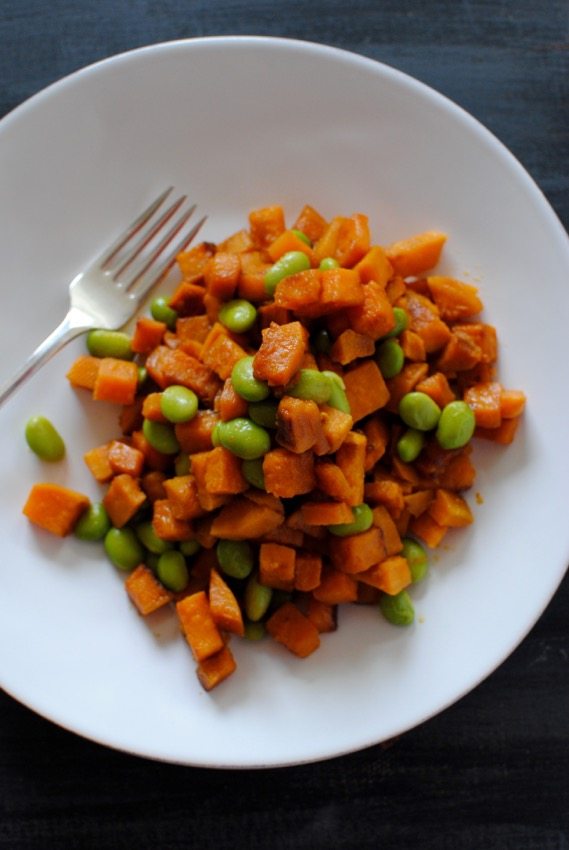 Roasted sweet potatoes are one of our favorite side dishes. The kids will always eat them, especially when ketchup is present, and they seem to go with just about everything.
Trouble is, sweet potatoes take a solid 30 minutes to wash, chop and roast, which is often longer than I have. So I've come up with an easy shortcut: sweet potato hash.
This "hash" is essentially pan-cooked sweet potatoes, which have all the same yummy properties as their roasted counterparts. The potatoes are sweet, perfectly caramelized, and textured yet soft – just like roasted. I love adding edamame because it ups the protein and fiber content, and when served with an egg on top (my solution to almost any dinner crisis) it's truly a complete meal.
Super Quick Sweet Potato Hash
A fast and nutritious side dish for all ages.
Serves:
2 large side-dish servings
Ingredients
2 Tbsp olive oil
1 large sweet potato, peeled and cut into small cubes
1 cup shelled and cooked edamame
Generous pinch of salt
Instructions
Heat the oil in a large nonstick skillet over medium heat for 2-3 minutes.
When pan is hot (but not smoking) add the sweet potatoes and spread out into a single layer. Leave to cook for 3 minutes.
Shake the pan to agitate the sweet potatoes then cook another 3 minutes. The goal here is to let the sweet potatoes brown a little. If they're starting to burn or look too dark, turn the heat down a little.
Sprinkle with salt and add ½ cup water. Stir gently, then cover the pan and let sit over medium-low heat for about 5 minutes or until water is absorbed. Stab with a fork to test tenderness.
When fork-tender and water is absorbed, remove from heat and let cool before serving.