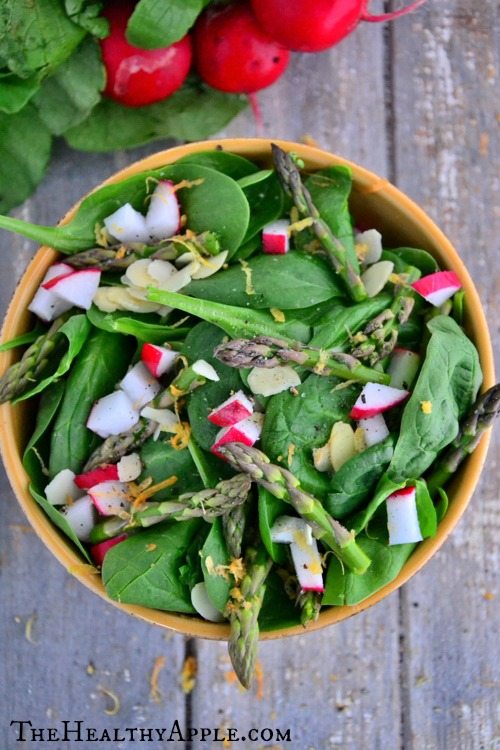 I didn't used to like radishes. I'd only ever tried them on stale veggie platters and they always seemed bitter and too spicy for my taste.
But last year, I got some very fresh radishes from our farmer's market and quickly morphed into a radish-lover. When you find good radishes (which isn't too hard to do – just buy them still-attached to the greens), they are only mildly spicy and even taste slightly sweet. Their crunchy texture and refreshing bite make them the perfect addition to green salads of all kinds.
Today's salad, created and photographed by my dear friend Amie of The Healthy Apple, features radishes at their best, along with other mouth-watering flavors like balsamic, lime and basil.
Happy crunching!
Radish Spinach Salad with Balsamic-Lime Dressing
Ingredients
6 small radishes, diced
1 bunch fresh asparagus, cut into ½ inch pieces
2 tablespoons extra-virgin olive oil, divided
2 tablespoons balsamic vinegar
2 teaspoons freshly squeezed lime juice
¼ teaspoon sea salt
¼ teaspoon freshly ground black pepper
2 cups firmly packed baby spinach
2 tablespoons raw almonds
¼ cup finely chopped fresh basil
Instructions
In a medium-sized bowl, combine radishes and asparagus with olive oil, balsamic vinegar, lime juice, sea salt and pepper; gently toss to coat.
In a large bowl, combine radish mixture with baby spinach with almonds, fresh basil. Serve.
Notes
If you like a slightly softer asparagus texture, steam the asparagus stalks for 2 minutes then let cool to room temperature before adding to the salad.
Amie Valpone is a personal chef, whole living expert, professional recipe developer and food writer, specializing in simple gluten-free recipes for the home cook. If you have any dietary restrictions – or even if you don't! – I highly recommend becoming familiar with Amie's blog, which is constantly full of deliciousness.
This post is part of Salad Month. Other salad recipes featured so far: