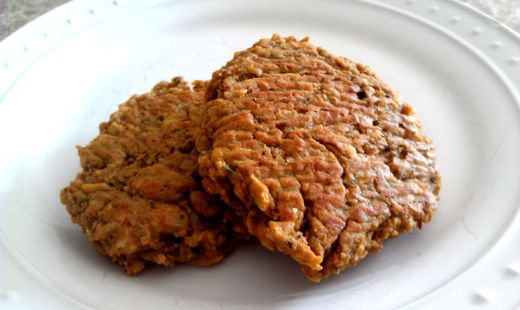 Last night I made two different kinds of veggie burgers.  Both versions turned out like starchy, flavorless hockey pucks.
I attempted this cooking project after searching stores for something I could feed Lucy that was a combo of veggies, grains, and protein.  While there were some tasty-looking veggie burger options, they were all loaded with sodium (40% of Daily Value – and that's for an adult!).  So I thought I'd just make my own, but instead of whipping up something yummy and healthy, I ended up with a huge mess in the kitchen, wasted food in the garbage can, and a feeling of discouragement.
Recipe failures (or in my case, lack-of-using-a-recipe failures) happen to the best of us from time to time.  Here is how I go about recovering from them:
1.  Try again – and soon.  If I do some research and find a good recipe, I'll make these again this week.  The longer I wait, the less motivated I am to try again.  Making your failed recipe again soon is a good way to restore faith in yourself and get some practice under your belt.
2.  Read through a recipe before you start cooking.  If you've ever gotten to step 5 only to see that you have to "refrigerate for 2 days" and you have company coming in an hour, you know what I'm talking about.  Read through an entire recipe before beginning to shop or cook.  This will prevent a large percentage of recipe failures!
3.  Attempt only highly-rated recipes.  Most recipe sites allow people to review and comment on recipes.  Look through a handful of the reviews before you choose a recipe.  If there's something inherently wrong with the recipe (not enough salt, tastes bland, too thick, etc) you will see that in many of the reviews; you will also see peoples' suggestions for how they overcame a recipe flaw so you can learn from their mistakes.  And if many people didn't like a recipe, you can choose something else that people loved.