Red Chili Dark Chocolate Frosty – A perfectly sweet, spicy and chocolatey Valentine's Day dessert!
On Valentine's Day, I put my healthy eating routine on hold. This is partly because I cannot resist cinnamon red hots, and partly because it's fun to indulge in rare treats like steak, butter-filled baked goods and rich chocolate.
One of my favorite ways to celebrate this not-really-holiday is by adding a little kick to chocolatey desserts. Last year I made Sweet and Spicy Sipping Chocolate using half & half. This year? A Red Chili Chocolate Frosty…that I know I'm going to crave on a regular basis from now on!
This thick, creamy, spicy cross between a milkshake and soft serve is incredibly rich and sooooooo delicious. I like to make it right before dinner then put it in the freezer, so that it's the perfect spoonable consistency come dessert time.
You can customize the spice level to your liking by adding more or less of the Cayenne pepper. I like it spicy but not overwhelming, which is what you get with the 1/4 tsp in the recipe below.
As I indulge in one of these on Sunday, I'll be thinking of you all and wishing you a wonderful day filled with love!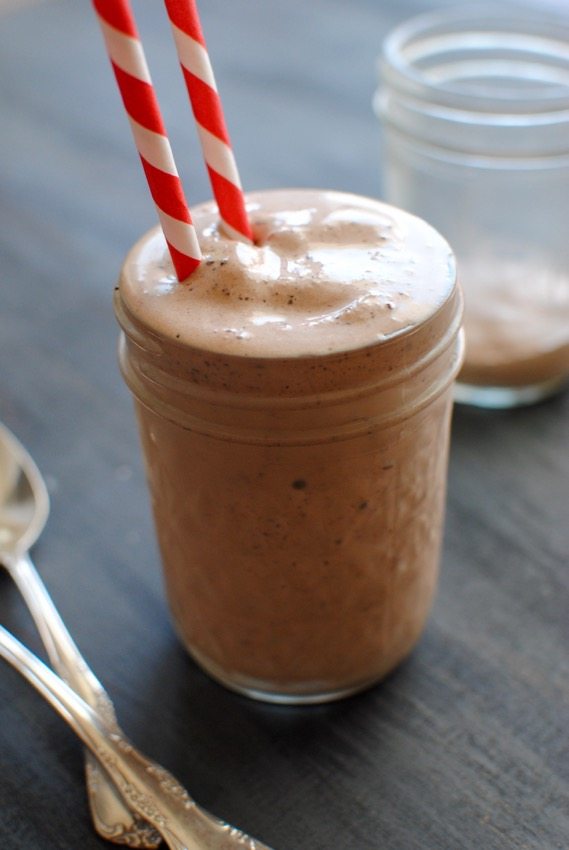 Red Chili Chocolate Frosty
A perfectly sweet and spicy Valentine's Day treat!
Ingredients
4 scoops vanilla ice cream (I used Alden's)
4 scoops chocolate ice cream (I used Alden's Chocolate Chocolate Chip)
¼ tsp Cayenne pepper (red chili powder - not a hili powder blend)
4 squares dark chocolate with red chili (I used a Lindt Excellence bar)
⅓ cup milk
Instructions
Put two small glasses or Mason jars in the freezer.
Combine all ingredients - minus one square of the chocolate - in a blender until thick and smooth.
Divide the frosty between the two chilled glasses.
Chop the remaining square of chocolate and sprinkle over the top of the frosties before serving.
Notes
For a darker chocolate taste, add 1 Tbsp cocoa powder to the recipe