Summer produce doesn't require much manipulation. It's so delicious in it's pure form, that just a drizzle of olive oil here or a squeeze of lemon there can equal a great "recipe."
As you'll see over the next few weeks, I've decided to spend the summer eating simple, fresh dishes with minimal ingredients. While I tend toward this every summer, I'm making even more of an effort to keep our food fast and fresh this year. Not only does this save time, it also reminds us how flavorful veggies and fruits can be when given the chance to shine.
The other night I made this spinach salad with watermelon, blueberries, corn kernels and lemon vinaigrette. It didn't have any of the nuts, cheese, dried fruit, or herbs that I normally load into my salads, but the ingredients were so good that no one noticed.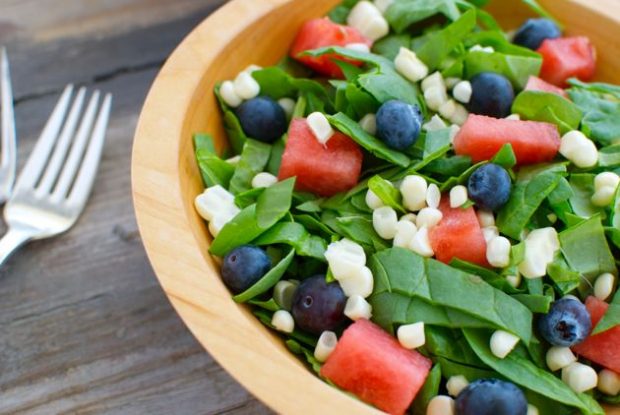 The sweet and fruity flavors were perfect with the spinach, and most importantly, the salad only took 3 minutes to make.
Now that's easy summer livin'!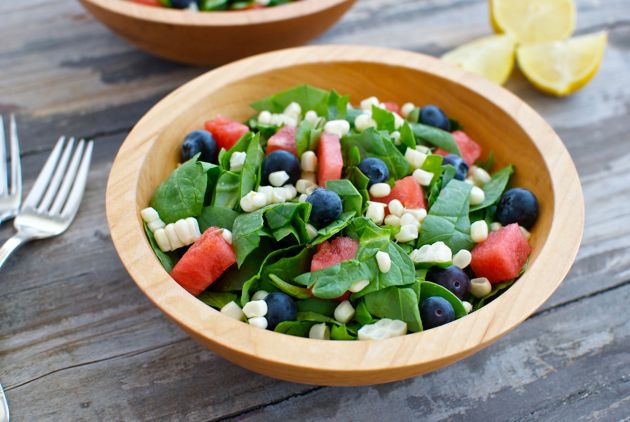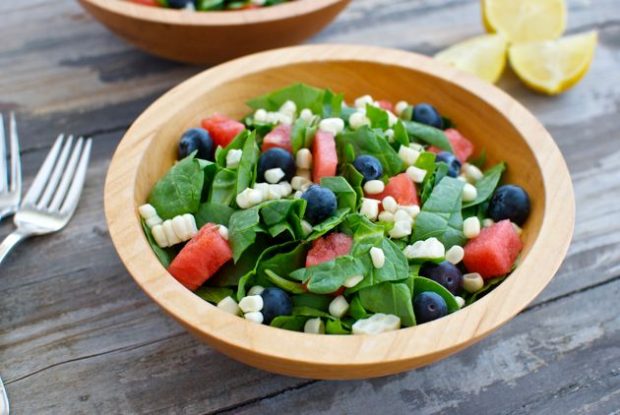 Red, White and Blue Salad
A simple, fresh, colorful way to celebrate Fourth of July - or any summer picnic or BBQ!
Ingredients
One 5-oz container organic baby spinach leaves, rough chopped
1 pint fresh blueberries
Kernels from 2 ears of cooked corn
2 cups watermelon, cut into small chunks
¼ cup Lemon vinaigrette
Instructions
Place all ingredients in a large bowl and gently toss to combine.
Serve right away. If prepping ahead of time, leave dressing out until ready to serve.