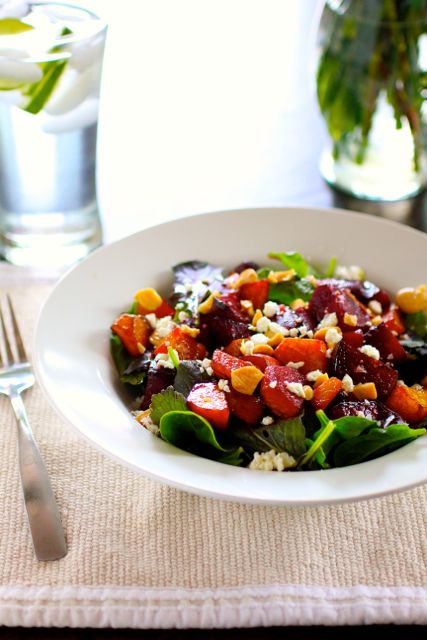 Not a big beet fan?
Neither was my friend Shanon, until she made these Glazed Beet and Burrata Toasts which changed her feelings about beets forever. Since then, she's come up with some fabulous beet-containing recipes, one of which is this Roasted Balsamic Beet Salad she's kindly sharing with us today.
If you love beets, you're going to melt when you taste this.
If you're on the fence about beets, this salad just may be the thing that convinces you of their deliciousness.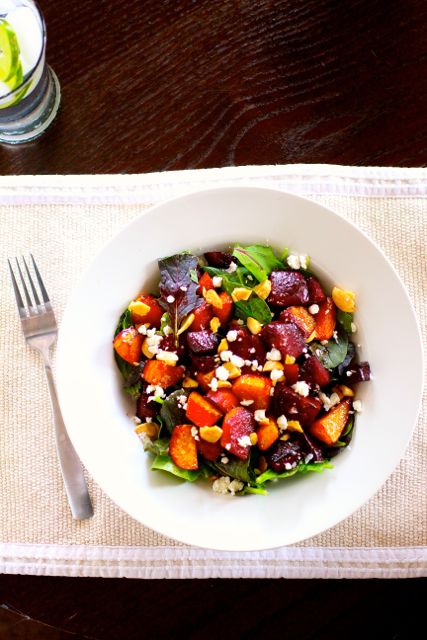 Roasted Balsamic Beet Salad
Created by Shanon Lacy of The Curvy Carrot
Ingredients
For the beets:
About 3-4 pounds beets (I used two bunches of red & golden beets -the beet sizes varied).
2 teaspoons salt
2 tablespoons extra-virgin olive oil
⅓ cup balsamic vinegar
1 tablespoon maple syrup
For the salad:
5-6 cups mixed greens (use whatever you like here)
½ cup chopped Marcona almonds
½ cup crumbled goat cheese
Flaky sea salt, to taste
Additional balsamic vinegar for drizzling over the salad, if desired
Instructions
Preheat the oven to 400 degrees and line a rimmed baking sheet with aluminum foil; set aside.
Peel the beets and chop them into 1-inch cubes.
In a medium bowl, toss the beets with the olive oil and salt.
Evenly spread the beets on the rimmed baking sheet and bake until the beets are softened and cooked through, about 30 minutes, flipping them over halfway through the baking time. Let cool slightly before handling.
Meanwhile, in a small saucepan over medium-low heat, combine the balsamic vinegar and the maple syrup. Cook the mixture over medium-low heat until it has thickened and has reduced to about half. (It took mine about 5-6 minutes or so). Remove the mixture from the heat and set aside.
Once the beets have cooled enough for you to touch them, transfer them to a bowl and lightly toss them with the balsamic vinegar/maple syrup mixture, until the beets are coated thoroughly.
Divide the salad greens evenly between your salad bowls. Top each salad with a generous portion of the beets, sprinkling each salad with the almonds and goat cheese.
Season with sea salt and drizzle with a little more balsamic vinegar, if desired.
Recipe and photos courtesy of Shanon Lacy, a physician, food lover, self-taught photographer, and blogger at The Curvy Carrot. On her blog, you'll find all sorts of incredible photos and recipes…like this Beer Cheese Dip!!