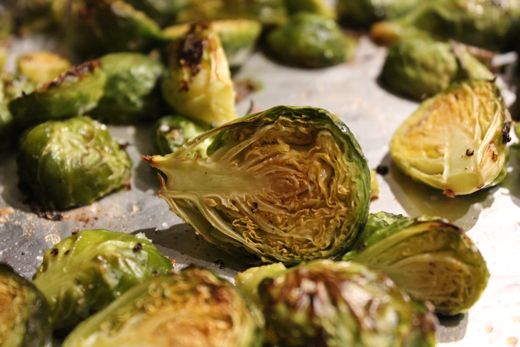 Roasting vegetables is really magic.  Just a light toss in oil and salt is all you need to turn any veggie into something you can't get enough of.
Take Brussels sprouts, for instance.  Hardly the world's most popular vegetable, these little cabbage-like balls go from bitter to  a delightfully crispy, flavorful side dish when you roast them.  Eat them simply roasted, add them to a salad, or toss them with lemon juice, dried cranberries, and shelled pistachios after cooking for a slightly more interesting dish.
What exactly is roasting?  Simply baking at a high temperature, maybe 400 degrees or above.  I like to roast veggies at 425 or 450, on a foil-lined baking sheet, until they are slightly browned and crispy-looking (like these Brussels sprouts).  They only thing to remember is not to overcrowd your baking sheet, because if the veggies aren't somewhat spread out, they'll steam each other and you won't get the crispy roasted veggie flavor and texture.
Here are a few more roasting tips.
Thank you to my dear friend Christa for taking these lovely sprouts pictures!  I highly suggest checking out her Pinterest page – she has the most wonderful taste and you'll never see so many beautiful photos!
Roasted Brussels Sprouts
Ingredients
1 lb brussel sprouts
1 tbs olive oil
pinch of sea salt
Instructions
Preheat oven to 450. Line a baking sheet with foil. Cut the brussel sprouts in halve length wise.
Toss with olive oil and spread out the brussel sprout halves evenly, making sure they don't tough one another. Sprinkle lightly with sea salt and roast for 15-20 minutes or until they start to look slightly brown and crispy.