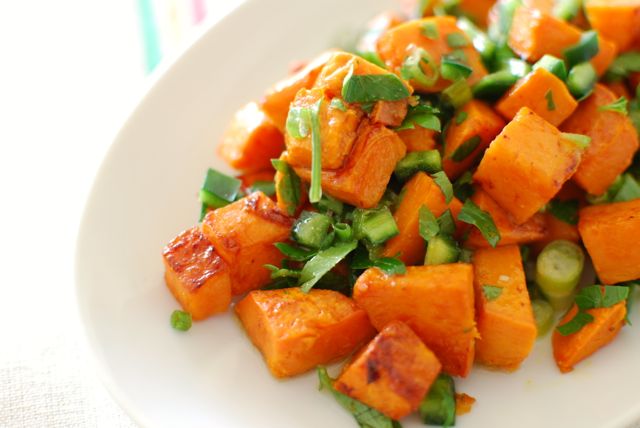 Chilly winter months often call for a hearty, warm meal.
But that doesn't mean you have to ditch your effort to eat healthy and dig into a steaming bowl of Mac & Cheese (though I wouldn't judge you if you did – yum).
Just make this Roasted Sweet Potato Salad with Poblano Peppers instead. It's as comforting as many of your favorite heavier foods, yet still offers the health benefits of a salad. And I personally love the unique flavor, sweetness and crunch.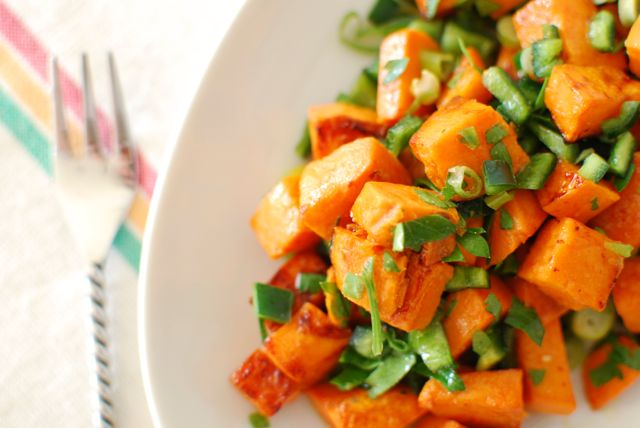 Come summertime, you can easily serve this salad cold as a colorful picnic side dish.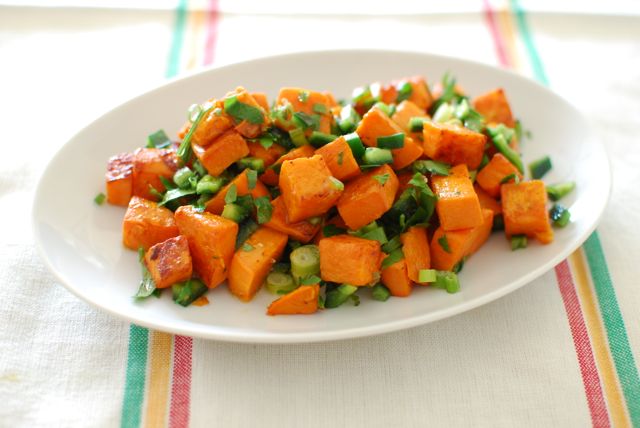 Roasted Sweet Potato and Poblano Salad
A healthy & unique twist on standard potato salads. You'll love all these flavors and textures together!
Serves:
6 side-dish servings
Ingredients
3 lbs sweet potatoes, peeled and cut into 1-inch cubes
2 poblano peppers, diced
4 scallions (aka green onions), thinly sliced
Big handful of Italian parsley leaves, rough chopped
3 tbsp white balsamic or white wine vinegar
Squeeze of lemon juice (~1 Tbsp)
2 Tbsp honey
4 Tbsp extra virgin olive oil
1 Tbsp Dijon mustard
Salt & pepper to taste
Instructions
Preheat oven to 425 degrees.
Line a large baking sheet with parchment paper (or foil, sprayed with cooking spray).
Place potatoes on the baking sheet and toss with 2 tbsp olive oil and 1 tsp salt.
Bake for 20-30 min, or until potatoes are fork tender and edges have browned (check frequently after 20 minutes to ensure they don't burn). Note the baking time will vary depending on the size of chunks you cut.
Meanwhile, whisk vinegar, remaining oil, lemon, mustard, & honey in a large bowl. Season with a pinch each of salt & pepper. Add sliced scallions, rough-chopped parsley, and diced poblanos to the bowl.
When the sweet potatoes are cooked, let them cool for about 5 minutes, then add them to the bowl with the veggies & vinaigrette and gently toss together.
Serve warm or room temperature.
Catching up on Salad Month recipes?
Here's what you've missed…
Arugula Salad with Lemon Vinaigrette
Radish Spinach Salad with Balsamic Lime Dressing
Mango Avocado Salad with Creamy Salsa Dressing
Soba Noodle Salad with Sesame Ginger Soy Vinaigrette
Fresh Herb Salad with Kumquats and Pistachios
Caesar Lettuce Wraps with Quinoa, Kale and Tofu