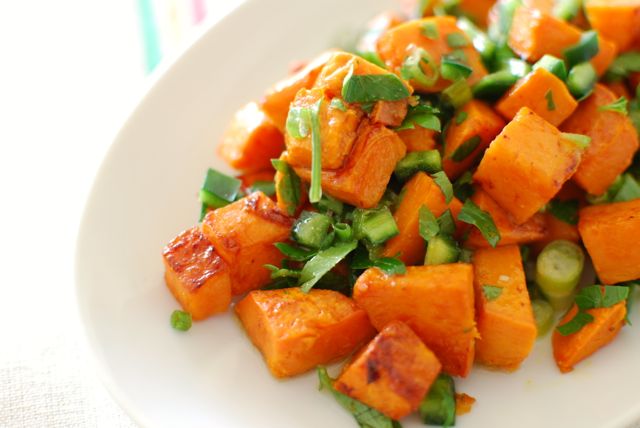 Looking for an alternative to the traditional calorie-laden potato salad that's so popular during the summer months? Try this Sweet Potato Salad — it has fewer calories, less fat, and more nutrients — not to mention it's flavor-packed and delicious!
Roasted Sweet Potato Salad
3 lbs sweet potatoes
2 poblano peppers
4 scallions (aka green onions)
Big handful of Italian parsley
3 tbsp white balsamic vinegar, or white wine vinegar
squeeze of lemon juice
2 tbsp honey
4 tbsp extra virgin olive oil
1 tbsp Dijon mustard
salt & pepper
Preheat oven to 400 degrees. Peel sweet potatoes and cut into chunks (size is up to you, just make sure the pieces are about equal sized so they cook evenly). Cover a large baking sheet with foil and spray with cooking spray. Place potatoes on baking sheet and toss with 2 tbsp olive oil, 1 tsp salt, and 1/2 tsp pepper. Bake for about 30 min, or until potatoes are fork tender and edges have browned (toss potatoes 1/2 way through baking).
Meanwhile, whisk vinegar, remaining oil, lemon, mustard, & honey in a large bowl. Season with salt & pepper. Finely chop the scallions & Italian parsley and add to bowl. Then chop poblano peppers into 1/4 inch pieces and add.
When the sweet potatoes are ready, let them cool for about 5 minutes, then add them to the bowl with the veggies & vinaigrette and gently toss together. Serve warm or room temperature. Enjoy!
*adapted from a recipe by Bon Appetit magazine, July 2009