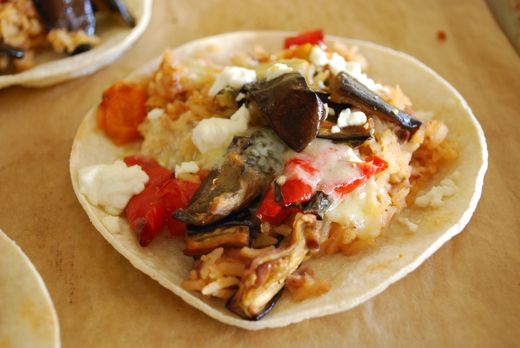 This meal came about when I was trying to re-purpose extra rice and beans that we'd brought home from a Mexican restaurant, plus some leftover roasted veggies.  Within 10 minutes we had an inexpensive and delicious vegetarian meal.  I love re-purposing leftovers, but never thought I could actually make use of the side dishes from last night's Mexican food.  Success!  Here's how to make them:
Place some corn tortillas on a baking sheet.  Put 1-2 tbsp cooked Mexican rice and 2 Tbsp of refried beans on top of each tortilla, then a generous portion of roasted (or grilled, or thawed frozen, or diced fresh) veggies and 1-2 Tbsp of your favorite cheese.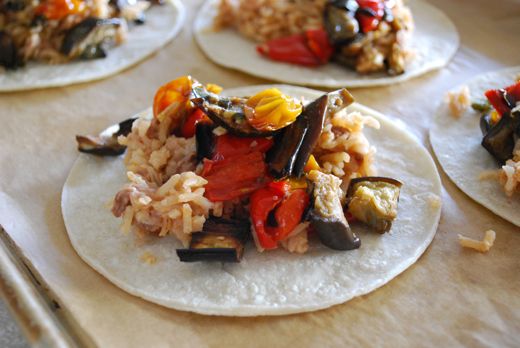 Broil on high for 2-3 minutes (watch closely) until cheese is melted, then remove from oven
and top with fresh chopped tomatoes, lettuce, avocado, radishes, olives, etc. plus dollops of salsa and/or Greek yogurt.
Fold up and eat as a taco, or go the tostada route with a fork and knife.
Fair warning: your baby (toothless and milk-only as she may be) might want some too!