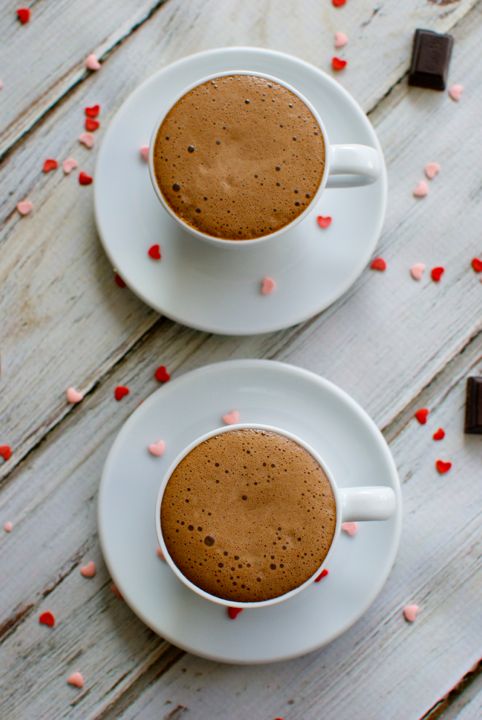 People have all sorts of feelings about Valentine's Day. Some love it, some hate it, and some simply view it as an opportunity to indulge in extra chocolate.
This Sipping Chocolate recipe is for all of us!
Whether you're planning an elaborate meal for someone special, entertaining a few friends, or spending a quiet evening at home – I think you're going to love this perfectly-portioned sweet treat.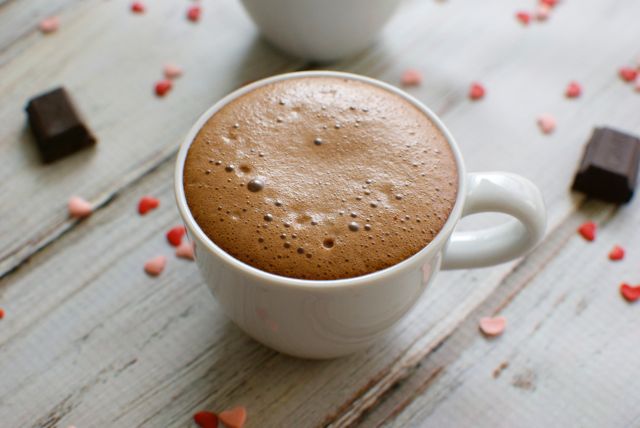 What exactly is Sipping Chocolate?
Good question. Until recently I thought it was just a fancy term for hot cocoa, but turns out there's a difference between the two: Hot cocoa is the powder that you mix with water or milk. Sipping chocolate – sometimes called "drinking chocolate" or simply "hot chocolate" – is made by melting real chocolate pieces into warm milk or cream. In other words, sipping chocolate is a richer, more chocolatey, even more delicious warm winter treat. And it's just as easy to make.
The only ingredients you really need are chocolate bits + milk. But since it's Valentine's Day, I decided to spice things up with cinnamon, ancho chile powder and my favorite half & half.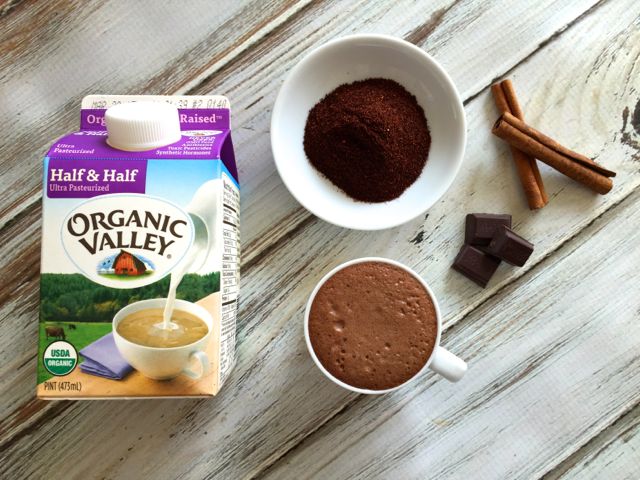 If you're surprised to see a nutritionist like me using half & half in a beverage, here's my reasoning:
These are small portions – under 1/4 cup each – so may as well go for the real thing!
As I discussed in this post, my thoughts on dairy fat have changed over the last decade, as long as the dairy is from organic, pasture-raised cows.
Research has shown that organic, pasture-raised dairy contains significantly more omega-3's and a more healthful balance of essential fatty acids than conventional dairy (more on that here), so I actually feel good about this little bit of extra fat.
[Note: All organic dairy cows must graze on pasture at least 120 days out of the year, but beyond that each brand varies. I choose Organic Valley products whenever I can, since I know their farmers keep cows out on pasture as much as possible, which results in healthier milk.]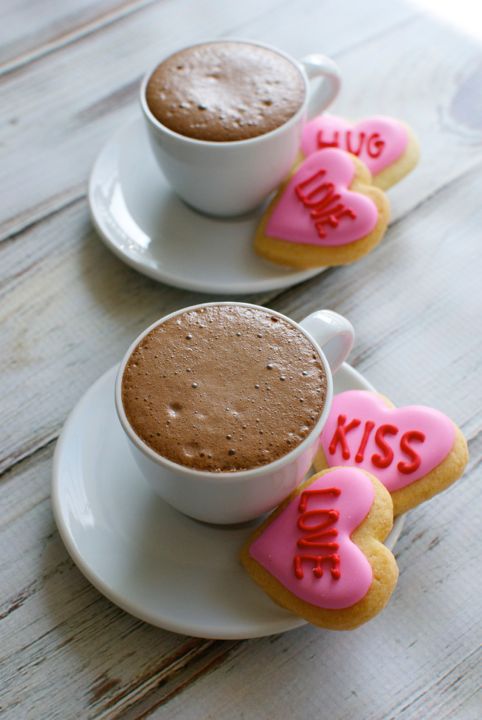 If you're like me and love foam on coffee drinks, give this hot chocolate a whirl with your milk frother (or just whisk vigorously) before serving. Of course you can add a marshmallow or a dollop of whipped cream if you please, but in my opinion this sipping chocolate is perfect as-is.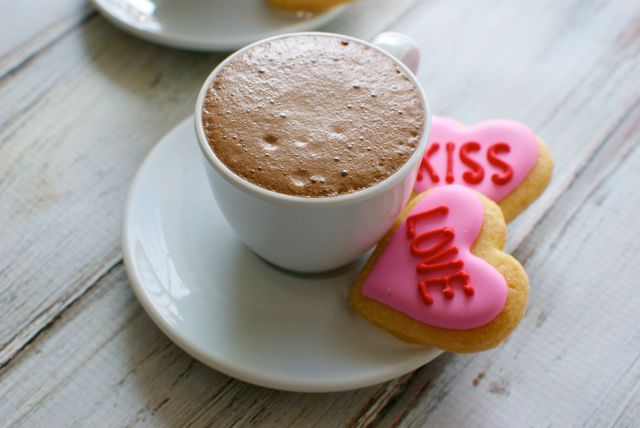 Enjoy!

Sipping Chocolate For Two
The perfect Valentine's Day treat or dessert on any chilly winter night!
Ingredients
1 cup organic, pasture-raised half & half
2 Tbsp fair trade cocoa powder
3 Tbsp fair trade dark chocolate chunks or chips (use 2 Tbsp for less intense chocolate flavor)
2 Tbsp sugar
¼ tsp ground ancho chile powder
¼ tsp cinnamon
tiny pinch of salt
Instructions
Place all ingredients except the chocolate chunks/chips in a small heavy-bottomed pot.
Heat over medium heat, whisking constantly, until mixture has simmered for 3-4 minutes (simmering helps the spices incorporate into the cream).
Remove from heat and let cool slightly, then blend with a milk foamer for extra foam and smoothness.
Drink as-is or top with a marshmallow.
Notes
If you like spice, add a little more chile powder and/or cinnamon.
This post is sponsored by Organic Valley. All thoughts and opinions are 100% my own. Thank you for reading, and for helping me support brands who are working to improve our food system and the health of people, animals and the earth.