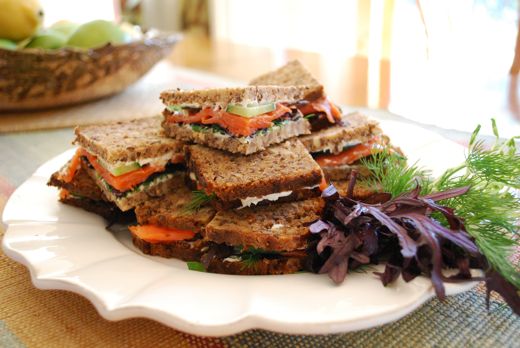 The Oscars take so long to watch that it's crucial to have plenty of good eats for your guests to munch on during the show.  These easy-to-make finger foods are sophisticated enough for a red carpet affair but casual enough for all-night noshing.  Plus they can be served at room temperature, so you can kick up your feet and join the celebrity gossip the moment people arrive.  Happy Oscar Viewing!
1. Smoked Salmon Sandwiches
Spread some light cream cheese on thinly sliced bread (try Pumpernickel or seedy multi-grain).  Sprinkle chopped green onions and fresh baby dill sprigs into the cream cheese, then top with thin cucumber slices, smoked salmon, and some leafy greens.  Cut sandwiches into small squares or triangles.
2. Roasted Veggies with Herb Aioli
Simply mix together 1/2 cup mayonnaise with 1/2 cup plain Greek yogurt, then add 1 finely chopped garlic clove and a big handful of chopped fresh herbs (try cilantro, parsley, basil, and/or chives).  Roast whatever veggies you like for dipping.  Here are some veggie ideas and roasting tips.
3. Goat Cheese & Tomato Tarts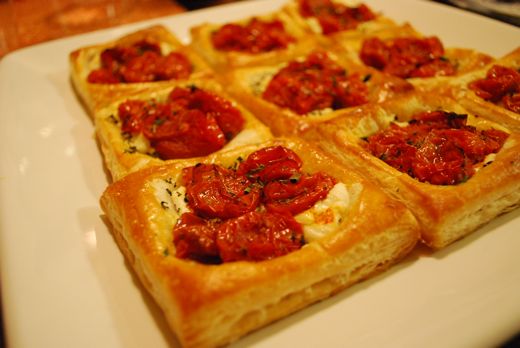 These look fancy, but they're seriously easy. Buy frozen puff pastry dough (I like Trader Joe's or Whole Foods) and thaw in the fridge. Take out one sheet at a time (it needs to stay very cold) and cut into 9 squares with a pizza cutter.  Use a fork to poke holes in the middle of each square, leaving a border with no holes so that the edges puff up (see how the edges above are puffy but the middle is flat?).  Put a few blobs of goat cheese and 3-4 baby tomatoes (or a few chunks of canned diced tomatoes) where you poked the holes in each square.  Bake at 425 for ~15 minutes or until edges are puffy and brown and middle looks cooked.  Sprinkle with fresh thyme and/or oregano leaves.
Want more appetizer ideas?
Roasted Chickpeas with Pistachios
Potato Chips with Creme Fraiche and Caviar