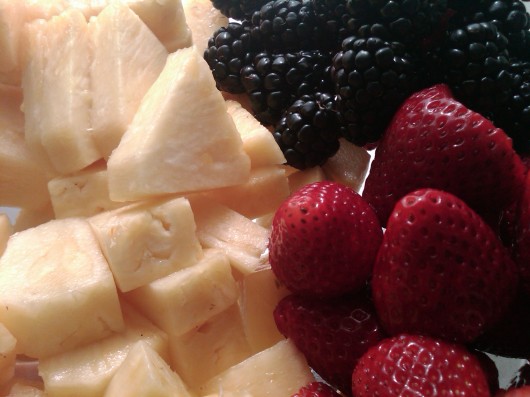 If you're a busy mom (or busy anyone) who feels like the only snack you can ever think of is apple slices with peanut butter, you're not alone.  It's hard to come up with new snacks, and the old staples (that you already know your kid likes) are so easy to reach for again and again.  Though I'm not a mom, I get in snack ruts too, so it's time for some new ideas.
When reading below, you may initially think "Nice idea, but MY kid isn't going to like that." But before you dismiss an idea (which sometimes happens when you yourself don't like a certain food, right?), give it a whirl.  Thinking outside the box of "kid foods" opens up a whole new set of taste preferences for kids, and you never know what your kid will like.  Also keep in mind that kids may not like something the first time they see it or try it, but that doesn't mean you can't try again.  It can take up to 10 introductions for a kid to feel comfortable with a new food (I know that might mean 10 times of fighting then having to make something else, so don't feel bad if you're not up for it :))
These can of course be adjusted to fit your kid's taste buds:
For Toddlers (older kids will love too)
CORN QUESADILLAS — 1 corn tortilla with shredded cheddar cheese & a sprinkling of corn kernels, microwaved then folded over, or cooked until crisp in a skillet.
HONEY WHEAT PRETZEL STICKS WITH DIPS — For the dips, try: mustard + honey or maple syrup (you can make it spicy or sweet), shredded cheddar whisked into warm milk for cheese sauce, peanut butter + honey, refried black beans + light cream cheese + lime juice.
SMOOTHIES — Use milk as the base rather than juice, then add plain yogurt and frozen fruit of any kind.  (Tip: make your own frozen fruit in the summertime. And anytime, buy a bunch of bananas and let them get really ripe, then peel, break into pieces and freeze in a Ziploc for quick smoothies, shakes, or even banana bread).  My favorite combos: strawberries + blueberries + vanilla soymilk + plain yogurt; mango + pineapple + banana + plain Kefir or low-fat buttermilk.
TORTILLA ROLL-UPS — Start with a whole wheat tortilla, then go to town with the endless possibilities!  Try one of these combos: peanut butter + apple slices + raisins; Italian cheese blend + prosciutto or ham + dollop of marinara sauce; cream cheese + turkey slices + chopped tomato; cheddar cheese + steamed egg (beat an egg w/ fork in a mug, microwave 1 min or until fluffy & cooked); refried beans + mild salsa + avocado.
YOGURT "BLENDS"— simply mix plain yogurt with mashed fruit of any kind.  Kids this age would of course love the overly-sweet commercial yogurts if you gave it to them, but there's no need, because to a toddler, plain yogurt even tastes sweet — capitalize on this!  Mashed bananas are easy, but you can also thaw any frozen berries, mango, pineapple, melons, etc in the microwave until very soft, then mash with a fork and add yogurt or Kefir (Kefir is cultured milk, very similar to yogurt but it is drinkable — look for it near the yogurt in the grocery store).  Other items to mix with yogurt: canned pumpkin, baby food sweet potatoes, baby food prunes, or applesauce.
RICE CAKES/SOY CRISPS — Top little rice cakes or soy crisps with peanut butter + banana slices + raisins; cream cheese + strawberry slices + honey; hummus + cucumber slices; avocado + olive oil drizzle; cream cheese + sliced black olives/olive tapenade.
For Older Kids (with lots of teeth) & Adults
DIP CONTEST — Kids will try anything if they get to vote or play a game.  Put out 3 different kinds of dip (hummus, ranch made with Greek yogurt & seasoning packet, fruity salsa, cheese sauce, honey mustard dressing, etc.) and a tray of cut veggies.  Say something like this: "Today, you guys are judges, and your job is to decide which of these dips is the best!  I need you to try each one, then tell me which is #1, #2, and #3, and then we'll figure out which is the winner." Watch this table of kids gobble down broccoli florets like you've never seen.
HOMEMADE FLAVORED POPCORN — microwave (Light or Unbuttered) or stove popped (super easy, just heat 1 Tbsp oil in a large pot for 2-3 min then add 3 Tbsp of popcorn kernels and cover with a lid: you'll have popcorn in a few short minutes).  Then try one of these combos: nonstick cooking spray + grated Parmesan cheese, lime juice + few splashes Tapatio or Tabasco + salt, 1 Tbsp melted butter + brown sugar, nonstick cooking spray + cinnamon + sugar.
FRUIT PARFAITS — Set out cottage cheese or plain yogurt, 2-3 bowls of chopped fruit or berries, a small bowl of chopped nuts or granola, and small clear glasses or plastic cups.  Have kids build their own parfaits by layering the ingredients, then top with a drizzle of honey.
HOMEMADE TRAIL MIX — Place bowls of different nuts, dried fruits, cereals, and a few chocolate covered raisins (if your kids can handle that!) then give each kid a small plastic cup where they can make their own trail mix.  Trader Joe's is a great place to find well-priced and unique dried fruits, nuts, and cereals, to keep everyone's interest.
TROPICAL FRUIT TRAY — so often we only think of apples, bananas, and oranges, but there are so many wonderful fruits in every season that kids love.  Make trays with a variety of colors to increase appeal, and let kids go to town (give them skewers to make their own "kabobs").  In the summer it's easy: watermelon, cantaloupe, honeydew, nectarines, golden plums, apricots, tons of berries, grapes, fresh figs.  In the fall, try persimmons, different kinds & colors of apples, and pears.  In the winter, try kiwis, star fruit, satsumas, pink grapefruit.  Keep your eye out for new or exotic fruits at the grocery store or farmer's market…and if you're not sure what to do with something, ask the farmer or produce guys — they'll happily tell you how to cut it, which parts to eat, and how to tell if it's ripe.
FRUIT DIP — Just like with veggies, dips can make fruit more exciting.  Make your own fruit dip by mixing 1) 6 oz fruit yogurt + 1/4 cup whipped topping or whipped cream + lemon or lime zest; 2) 6 oz plain yogurt + 2 Tbsp peanut butter + 1 Tbsp honey + pinch of cinnamon; 3) cup of Ricotta cheese + 2 Tbsp caramel or chocolate sauce + pinch of cinnamon or cocoa powder; 4) cup of Greek yogurt + chopped fresh mint + lemon zest + 2 Tbsp Maple Syrup.
SWEET POTATO TREAT — turn baked or microwaved sweet potatoes into a "dessert" kids will love.  Give each kid half a sweet potato (halved lengthwise), top with a little butter, then help them add a drizzle of honey, maple syrup, sweetened condensed milk, or brown sugar + pinch of cinnamon or pumpkin pie spice + dollop of plain or vanilla yogurt.  Let them mash it all in and enjoy.