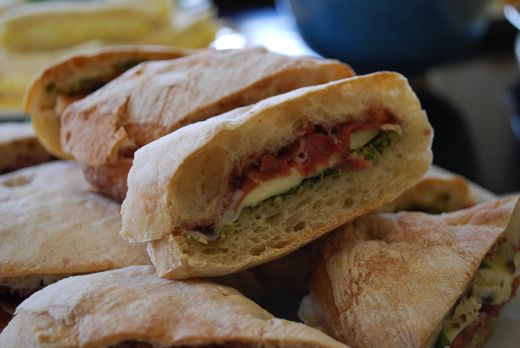 The first weekend of THE tournament is here, and if your house is anything like mine, college basketball will be on TV pretty much nonstop…which of course means that people will come over, they'll be hungry, and some tasty snacks will be in order.  Here are a few easy, moderately healthy food ideas to help get you through the weekend of madness.
Fig and Prosciutto Sandwiches (pictured above).  Cut some small rustic rolls in half.  Paint one side with pesto of any kind (I used mint pesto, which goes great with salty meat and fruit) and the other side with fig preserves.  Add a slice or two of prosciutto and a few chunks of brie.  Sandwich can be served at room temperature or warm (use this method to warm them).  Optional: add some fresh arugala or baby greens.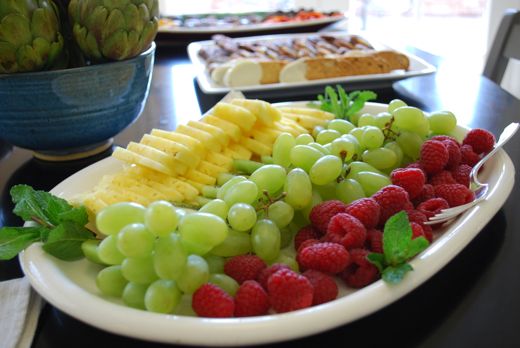 Fresh fruit platter. Pick 3 fruits of different colors, then cut and plate them up for people to snack on.  Sticking to just 3 fruits makes for a clean and appealing presentation.  These in-season fruits are a good place to start: oranges, grapefruit, pears, and strawberries.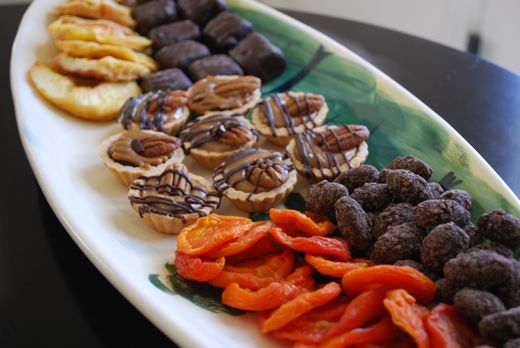 Dried fruit, chocolate, and cookie platter.  This is an easy way to get out of making dessert.  Just throw together some of your favorite chocolate covered nuts, dried fruits, and one or two kinds of store-bought cookies, and you've got a platter of sweets that will please any palate.
One other no-prep snack. Pita chips with hummus, olive crackers with tapenade, veggies with aioli…whatever you're in the mood for will work to fill in your menu.  Keep it simple, so you too can kick back and enjoy the game!