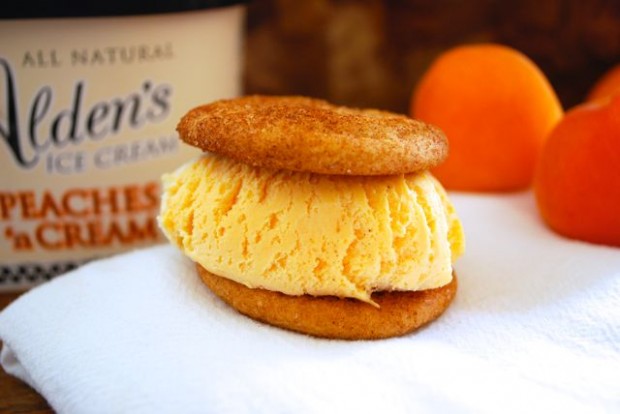 Summer's here (almost), and it's time to start thinking about frozen treats!
One of my favorite indulgences are cookie ice cream sandwiches.  You can get a gourmet version of this fab dessert from a food truck like Coolhaus, but it's also fun and easy to make them at home.  Snickerdoodles with a fruity flavor of ice cream are my latest interest. Yikes, are they good! I've been using Alden's Organic Peaches 'n Cream ice cream:
along with these pre-made cookie dough balls:
which I just roll in cinnamon-sugar before baking to turn them into Snickerdoodles. (Yes, I used to make all my own cookie dough, but being a new mom has left me short on time, and this responsibly made dough is a shortcut I feel good about).
After the cookies cool, just place a scoop of somewhat softened ice cream (leave at room temperature for about 5 minutes) in between two cookies and quickly put the cookie sandwich back in the freezer.  Let freeze for at least an hour before serving.
Enjoy!!