If you're looking to go beyond chips & dip for this year's Super Bowl party, look no further than these delightfully elegant snacks.  They don't require any more time or expertise to prepare than the regular game day appetizers, but are different enough to surprise and impress your guests.  These are all items my friend Kari Lauritzen and I recently made for a party – she is one creative gal!
Idea #1: Platter of seasoned nuts, cubed white cheddar, and olives (see above). Simply lay out your favorite kinds of goodies on a platter and serve, maybe with a few fresh herbs or edible flowers for garnish.  Make sure to provide a little bowl for olive pits/dirty toothpicks.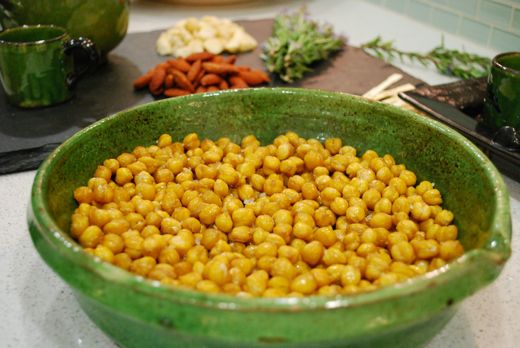 Idea #2: Roasted Garbanzo beans with course or flaked salt. These little beans get crunchy when roasted, so they're the perfect alternative to regular chips.  Here's how to make 'em. (For a little extra crunch, follow in my friend Kari's lead and add shelled pistachios to the bowl!).
Idea #3: Roasted Veggies with Garlic Aioli. Store-bought veggie platters are often boring and tasteless, especially in winter when none of the veggies used are in season.  Make veggies more exciting by roasting in-season ones, like carrots, baby potatoes, and delicata squash.  Then whip up a creamy veggie dip like Garlic Aioli (just mix a clove of minced garlic with 1 cup may, 1 cup lowfat Greek yogurt, and the juice of 1/2 a lemon, plus salt & pepper to taste), or one of these dips.
Idea #4: Crostini with White Bean Mash.  Simply saute 1/2 an onion or 1 shallot in some olive oil and salt until soft, then add 2 cans of drained, rinsed white beans of any sort and stir.  Add some chopped rosemary or sage plus a little white wine, broth, or water to get the beans soft, then mash with a potato masher.  To make crostini, just toast baguette slices with a little olive oil and salt and serve with the mash.
Idea #5 (For the especially lazy cook). Throw some nuts into a pretty bowl and call it good.  Do this with a few different types of nuts in cool bowls around your living room for variety.
**Kari Lauritzen is my friend and fellow personal chef in Los Angeles**