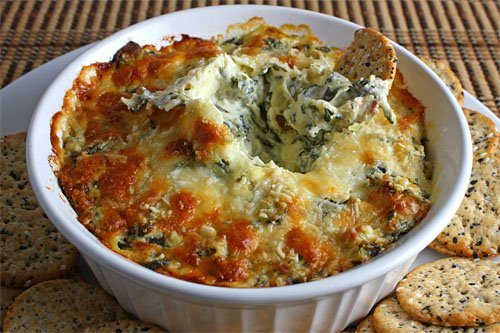 Everyone loves Spinach Artichoke Dip, but order it at a restaurant and you'll do yourself right in. Check out these gnarly stats:
Chili's Spinach Artichoke Dip: 1130 calories, 90 grams fat, 39 grams saturated fat
Applebee's Spinach Artichoke Dip: 1530 calories, 101 grams fat, 26 grams saturated fat
Claim Jumper Spinach Artichoke Dip: 2253 calories, 91 grams fat, 46 grams saturated fat
Ruby Tuesday Spinach Artichoke Dip: 1240 calories, 76 grams fat
These nutritionals are per order (but without chips or bread–eek!), so hopefully you're not downing the entire thing on your own.  But even if you're sharing with one or two other people, that's too many calories — especially if it's just your APPETIZER.
Not to worry, though.  You can easily whip up a healthier version of Spinach Artichoke Dip at home (perfect for football-watching on weekends, right?) and serve it to your guests…or yourself…relatively guilt-free.
Healthier Spinach Artichoke Dip
Ingredients
1 can artichoke hearts, drained and chopped
1 10-oz package frozen spinach, thawed and thoroughly drained
2 garlic cloves, minced
4 oz (half a block) Light cream cheese, at room temp
¼ cup Light mayo (pick one with 35 cals/Tbsp)
½ cup nonfat Greek yogurt, at room temp
¼ cup grated Parmesan cheese
Handful of fresh Italian Parsley (the flat kind), chopped
½ tsp black pepper
½-1 tsp salt (taste it before baking to see)
Juice of 1 small lemon
Small pinch of red pepper flakes (optional)
Instructions
Preheat oven to 375. In a large bowl mix together cream cheese, yogurt, mayo, garlic, lemon juice, parsley, salt, pepper, and ½ the Parmesan cheese. When it's smooth, gently mix in the chopped artichoke hearts and spinach with a spatula.
Spread mixture into a shallow baking dish and bake for about 20 minutes, or until it begins to bubble on the sides.
Remove from oven, sprinkle remaining Parmesan cheese on top, and bake until the top is golden brown and sides are bubbling, about another 5-10 minutes. Serve with homemade or store-bought pita chips, whole grain tortilla chips, or cubes of bread. Makes 6 servings, about 102 calories per serving.
Homemade Whole Grain Pita Chips
Ingredients
4 100% whole wheat pitas
2 Tbsp olive oil
Garlic salt
Black pepper
Instructions
Preheat oven to 375. Line a baking sheet with foil. Paint one side of pita with a light coating of olive oil, then sprinkle generously with garlic salt and pepper. Cut pita into wedges (each pita = 8-10 wedges) and place on baking sheet. Bake for 8-10 minutes or until crisp. Enjoy with Spinach Artichoke Dip, or one of these easy dips.
*Image above taken from http://linkmusic.net/can-anyone-make-hot-spinach-artichoke-dip/