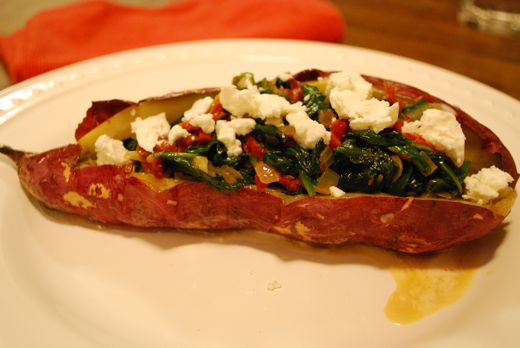 This dinner was born out of my need to use up baby spinach leaves that were on their last legs.  The result was so good though, that this will now be in our favorite dinner rotation.  It's a cinch to make, and if you microwave the potatoes instead of baking them, dinner could be on the table in less than 15 minutes.  Use any sweet potato, yam, or regular potato you lke (the ones below are all various forms of sweet potatoes)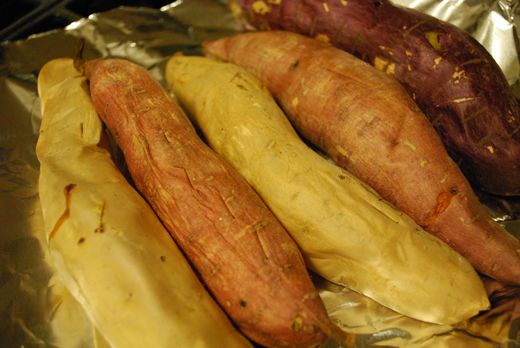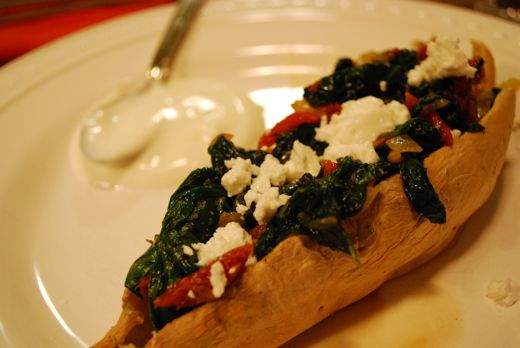 Spinach & Goat Cheese Stuffed Sweet Potatoes
Ingredients
4 whole Sweet Potatoes, medium, any color
½ cup Yellow or Brown Onion, chopped
8 Sundried Tomatoes, sliced
½ teaspoon Kosher salt
10 ounces Baby Spinach
¼ teaspoon Red pepper flakes
1 cup Plain Whole Milk Yogurt
3 ounces Soft Goat Cheese
Instructions
Preheat oven to 375. Scrub outside of potatoes thoroughly under cool water. Place potatoes in oven and bake until soft, 30-40 minutes. (You can also just microwave the potatoes).
In a medium skillet, saute onion and sundried tomato (residual oil on sundried tomato should be enough for sauteeing --otherwise add 1 Tbsp olive oil to pan) over med-low heat for 5-7 min or until soft. Add pinch of salt, then add ½ the spinach leaves and saute until wilted. Add remaining spinach + another pinch of salt and the red pepper flakes. If spinach leaves aren't wilting, add 2 Tbsp water or broth to pan. When spinach is wilted, stir to combine ingredients then remove from heat.
Remove potatoes from oven or microwave and cut lengthwise to expose the inside for stuffing. Dollop some plain yogurt or Light sour cream into the potato and sprinkle with salt & pepper. Scoop a generous spoonful of the spinach mixture into the potato, then top with some big chunks of goat cheese. Add another dollop of yogurt/sour cream on top and serve.