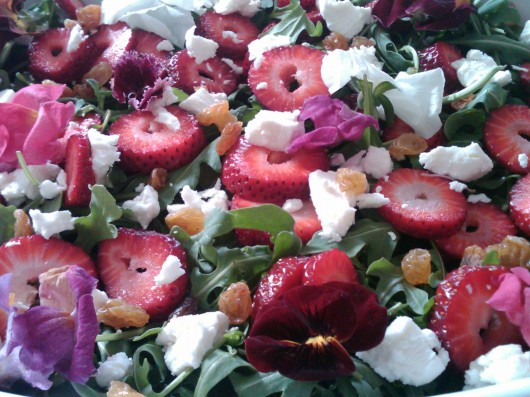 Spring is here, and so are baby greens, strawberries, and flowers you can actually eat.  Impress your guests (or yourself) by whipping up a simple yet striking salad with a few no-hassle ingredients.  This is just one idea:
Strawberry and Edible Flower Salad
1 bag baby arugula (or other baby green of choice)
1 pint fresh ripe strawberries, sliced
3 oz soft goat cheese
sprinkling of golden raisins
a few edible flowers (look for them by the fresh herbs in the produce section of the grocery store, or at the farmer's market)
Spread the greens over a platter and top with strawberry slices, raisins, and goat cheese (broken up into clumps with your fingers).  Place flowers on last, then drizzle with a few tablespoons of balsamic vinaigrette and sprinkle with salt & pepper.
Balsamic Vinaigrette
1/4 cup aged balsamic vinegar
1/2 cup apple cider vinegar
1 Tbsp soy sauce
1 Tbsp Dijon mustard
3 Tbsp honey
1/3 cup Extra Virgin Olive Oil
sprinkle each of salt & pepper
Whisk ingredients together in a mixing bowl until well-blended.  Makes a lot, so store extra in a mason jar, small pitcher, or Tupperware container for future salads.