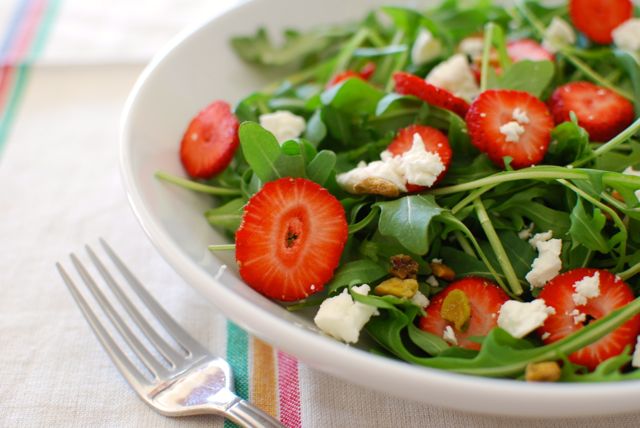 I can't get enough arugula lately. Obviously 🙂
And arugula + strawberries + goat cheese is just about my favorite salad combo out there. Peppery leaves, creamy & tangy cheese and sweet & juicy fruit work together so perfectly.
I almost always make this salad with my lemon vinaigrette, but it's also great with balsamic dressing.
Add whatever nuts you have around – pistachios (what I used here), walnuts, pecans or sliced almonds.
Have trouble keeping your greens fresh?
Use this trick. It extends the life of greens – especially tender baby greens like arugula, spinach, spring mix, etc. for at least an additional few days if not longer.
Strawberry, Goat Cheese & Arugula Salad
Ingredients
1 5-oz container of organic, pre-washed arugula
½ pint organic strawberries, washed and sliced
2 oz soft goat cheese, crumbled
2 Tbsp nuts of your choice
Salt & pepper
Lemon vinaigrette, to taste
Instructions
Place greens in a large bowl.
Top with remaining ingredients and a tiny pinch of salt & pepper.
Drizzle with desired amount of dressing and toss before serving.
Notes
Add grilled chicken or tofu cubes to make this salad an entire meal.

If you can't find good strawberries during winter, try using freeze-dried strawberry slices. When tossed with the dressing they'll rehydrate slightly and offer a delicious chewy texture.
Nutrition Information
Serving size:
2-3 large servings