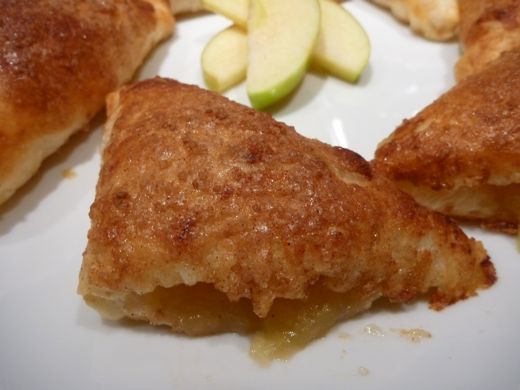 This week's Sunday Splurge: a hearty fall treat that would make the perfect addition to a Sunday brunch, dessert after a light dinner, or even breakfast on a holiday morning.  These apple turnovers are fast and easy to make, and will please any crowd!
Warm Apple Turnovers
Ingredients
1 tablespoon All Purpose Flour
2 sheets Puff pastry dough, thawed but cold
2 teaspoons Cinnamon
1 Large Eggs, beaten
3 tablespoons Sugar
1 cup Applesauce
Instructions
Preheat oven to 400. In a small bowl, mix together cinnamon and sugar. In another small bowl, beat egg well. Set aside. Sprinkle flour on a cutting board or small part of the counter to use as a workspace. Lay out one sheet of puff pastry (keep other in fridge until this one's done). Using a pizza cutter, cut the puff pastry into 6-8 even squares (can do more or less depending on how big you want the turnovers to be).
Put a small dollop of applesauce – about 2 tsp – in the middle of each square then fold into a triangle and seal the edges together by pressing on them with a fork. Place triangles on a parchment-lined (or nonstick) baking sheet. Using a pastry brush or paintbrush, paint each turnover with a little of the beaten egg then sprinkle generously with cinnamon sugar. Place this sheet in the fridge while you prepare the 2nd batch of turnovers in the same manner with the other puff pastry sheet.
Bake both sheets at 400 for about 15 minutes or until golden brown and puffy. Let cool for 5-10 minutes (inside is very hot!) then serve on a large platter.
Nutrition Information
Serving size:
12 servings
Thank you to Kari, my brilliant chef friend who created and taught me this recipe!
*Kari Lauritzen, besides being my friend, is a fabulous private chef in Los Angeles*
Presentation ideas: