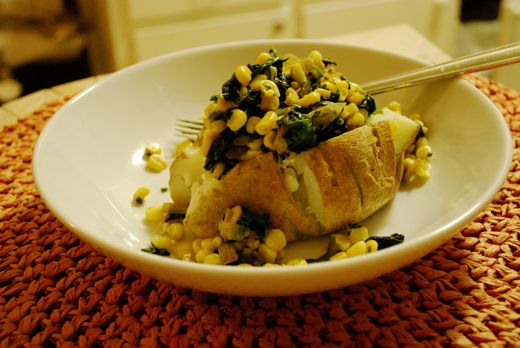 The other day we were really low on dinner supplies.  A couple of potatoes, an onion, partial bags of frozen veggies, and the remnants of a few dips.  I was tempted to eat ice cream for dinner, but luckily thought of stuffed baked potatoes before I made that mistake.
The "stuffing" was sauteed onion, corn, and spinach with pinches of salt, pepper, and dried thyme.
To cook the potatoes, I just stabbed them with a fork and microwaved them (it was already 7pm – too late to spend an hour baking).
When they were soft, I split and topped them with a few crumbles of soft goat cheese plus some butter (gasp!)  before adding a huge pile of the sauteed veggies.  Served with a few dolloping options (salsa, hummus, yogurt) since the other adult member of my household loves toppings.
And that was it!