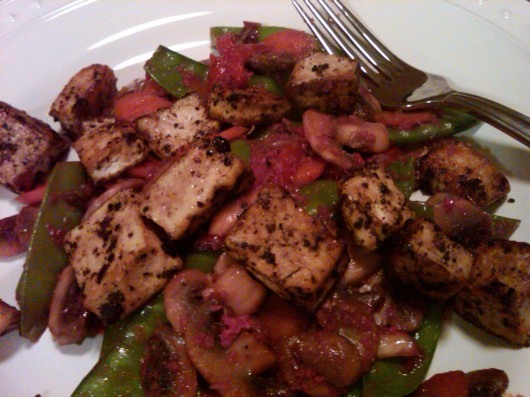 Problem: Random about-to-wilt veggies taking up space in fridge.
Solution: Make a stir fry.
Tofu & Veggie Stir-Fry
1 pkg Extra Firm Tofu, drained on paper towels for a few min then cut into med-sized cubes
Couple heaping spoonfuls of Cornstarch
Veggies of choice (especially good for stir-fry: snow or snap peas, sliced mushrooms,  shredded red or green cabbage, thinly sliced carrots, thinly sliced celery, sliced onions, whole or halved green onions, bell pepper strips, broccoli florets, halved asparagus spears canned bamboo shoots or water chestnuts)
Trader Joe's Black Pepper Sauce & Marinade (shown here, but use whatever sauce you like)
Splashes of soy sauce, rice vinegar, fresh lime, sesame oil and/or dollops of minced ginger, peanut butter, chopped cilantro –to doctor up jarred sauce
In a small bowl, mix the black pepper sauce with whatever ingredients you're using to "doctor it up."  I like to add fresh lime juice, rice vinegar, and minced ginger.  Set sauce aside.
Heat 1 Tbsp canola oil (or sesame oil if you have it) in a large skillet over medium-high heat.  Meanwhile, toss tofu cubes with cornstarch and 1/2 tsp salt in a medium bowl.
Place tofu cubes (shake off extra cornstarch) in skillet and let cook without touching for 5 minutes so that a crust forms.  Toss the cubes around in the pan, then leave again for 5 minutes.  When tofu is browned on all sides (mostly), remove from pan, add another small drizzle of sesame oil, and start adding veggies.
Add the veggies that need longer to cook first (carrots, celery, mushrooms), and after they begin to soften, start adding remaining veggies.  Most will only need 2-3 minutes to cook when being sauteed over medium-high heat, and nothing's worse than soggy stir-fry, so err on the side of under-cooking.  1-2 minutes before veggies are done cooking, add the tofu back to the pan along with the sauce.  Toss gently so everything's coated.
Serve on it's own, or over brown rice, soba noodles, rice noodles, quinoa, or whole wheat couscous.