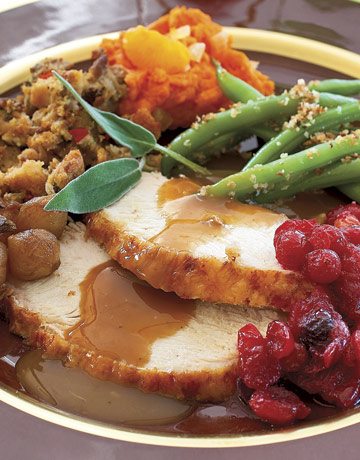 Part of the fun of Thanksgiving is stuffing yourself a little. However, some of us merely begin stuffing ourselves on Thanksgiving….and continue to do so through New Years when we finally make a resolution to deprive ourselves of yummy food. So instead, here's what I recommend: enjoy Thanksgiving food to whatever degree you want to, just make sure you…
Exercise before you dig in. Do an intense cardio workout if you can, for at least 45 minutes. If this isn't in the cards, go for a long brisk walk. Exercising before you eat will make you more likely to eat reasonably, and will counteract some of the calories you take in during the day.
Drink plenty of water. If you're dehydrated while you're eating, you're likely to overeat even more than normal. And if you'll be drinking alcohol on the holiday, drink extra water.
Exercise AGAIN after you eat. You'll be full, so just get up & move around a bit…a walk is usually a good call for post-Thanksgiving feasts. Then on Friday, get moving again with a really good workout.
DO NOT let Thanksgiving be the first day of a 30 day binge. Instead, wake up on Friday and get back to normal. There will be plenty of times to indulge this holiday season, so insert as many healthy days as you can between now & January. This way, you won't have to set some horrible resolution because you won't have gained any weight!
Happy Thanksgiving everyone!