When you think of eating pumpkins, pie is probably the first thing that comes to mind.  But pumpkins are great in SO many other recipes, including savory ones!  This fall, make a point to use pumpkin (or another type of squash) in a new way.  Pumpkins not only taste great, they're rich in vitamins and fiber and low in calories – plus, they're inexpensive and they last forever!  Here are some great places to find easy, healthy pumpkin dishes.
1. My 5 favorite ways to eat pumpkin.  Some savory, some sweet.  All YUMMY.
2. Eating Well's pumpkin recipes.  I highly recommend the Southwest Pumpkin Burgers with Fresh Tomato Salsa!
3. Kath's Pumpkin Oatmeal. Really all you do is stir some pureed (or canned) pumpkin into your oatmeal and top it with whatever you like.  You can do this with any hot cereal, and it's also great in yogurt.
4. Pumpkin Maple Baked Bean Cornbread Casserole.  It's a mouthful of a title, and a mouthful of a dish, but it's easy to make and tastes delicious!
If you're not in the mood to cook, you could always just use your pumpkins to prop up your baby for a photo…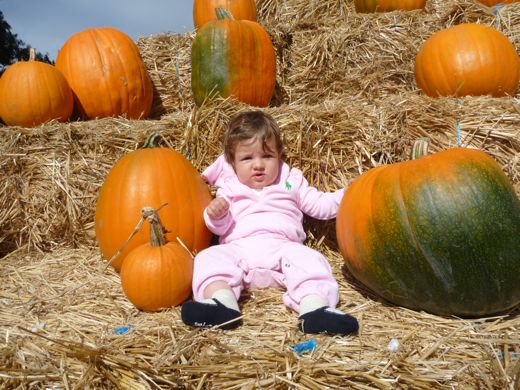 Aren't pumpkins beautiful?  Even sitting in the mud, they look good!