Whenever we're preparing for a trip, I spend about half the time contemplating what foods to bring. Healthy options on the road are tough to come by, so planning ahead is key if you don't want to gorge on chips, candy and fast food (although a little of these can be fun!).
As with snacks and meals at home, the key to good travel snacks is making sure they include protein, carbs, and fat. The combination of these three nutrients keeps you feeling healthy and satisfied.
A few examples:
Healthy carbs – Fruits & vegetables (fresh or dried), whole grain breads, crackers, popcorn, rice cakes, etc.
Protein/Fat – Nuts, nut butter, cheese, deli meat, edamame, baked tofu, boiled egg, yogurt, etc.
Since it can be hard to think of unique, healthy snacks that keep everyone happy on the road, I turned to one of my favorite snack companies – NatureBox – for a little help. NatureBox is a snack "subscription" service, in which healthy & delicious snacks are shipped to your front door every month. They send new items each time, but if you love something you can request it again or create your own desired mix of snacks.
A couple weeks ago NatureBox let me create a Road Trip Snack Box just for this post!! (See below for how to win these!) Here's what I paired the snacks with for our most recent road trip:
Honeycomb sunflower kernels with fresh cantaloupe chunks.
Plantain chips with cherry tomatoes and a mini wheel of cheese.
Chili lime pistachios with fresh berries.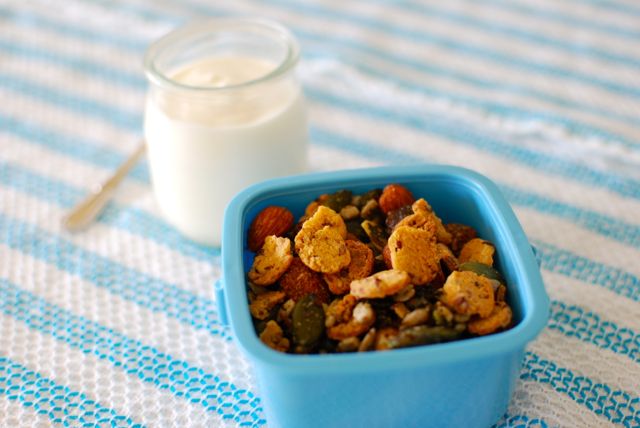 Tuscan summer mix (this stuff is AMAZING) with a little cup of yogurt.
Barbacoa peas with fresh strawberries.
Each of these snacks was SO good, that it was hard for me to keep them around long enough to even take these pictures 😉
GIVEAWAY ENDED
Leave a comment below with your favorite healthy snack for traveling, and be entered to win a box full of these goodies.
Winner will be randomly chosen on Thursday July 4th.
Good luck!!
This is not a sponsored post, but NatureBox will kindly be providing the winner with their box of snacks.