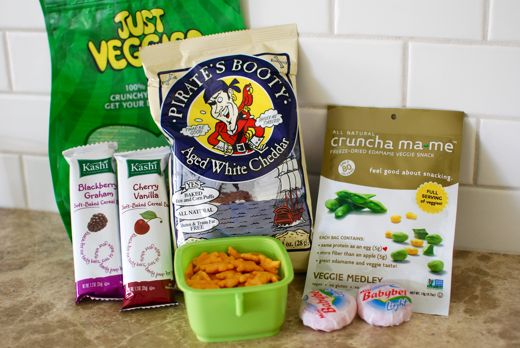 Whether you're traveling by car or plane, it can be hard to find healthy snacks to fuel you for a long trip.  The challenge is even bigger when you're traveling with kids.
I highly recommend packing a bag of healthy goodies at home so you don't have to rely on truck stops or airports for nourishment.  Here's what I packed for our recent (long!) trip to Michigan.
Annie's Cheddar Bunnies (a family favorite which we save for trips)
And because no trip would be complete without a few treats, baby puffs for Lucy
and Unreal Peanut Butter Cups for Tyler and myself.
Also in the food bag were grape tomatoes and fresh blueberries, plus golden raisins – our go-to healthy travel snacks.
Another traveling tip: don't forget to zip your suitcase after packing…or someone may try to unpack before you even get out the door!
Do you have any favorite travel snacks you can't live without?