I grew up in a family with some pretty consistent food rules. Treats were occasional, drink choices were water or milk, and sandwiches meant veggies stuffed between slices of grainy whole wheat bread.
But whenever my brother or I got sick, all rules went out the window. My mom would warm up canned soup, make vanilla pudding and let us drink as much ginger ale as we wanted. Of course, we thought this was glorious.
So when I became a mom and my own kids started picking up viruses, I felt compelled to give them the same nurturing treatment I received from my loving parents several decades earlier.
As a nutritionist and chef, however, I'm picky about packaged foods. When I first read the label on the canned tomato soup I grew up on, I was shocked to see its ingredients:
INGREDIENTS: TOMATO PUREE (WATER, TOMATO PASTE), WATER, HIGH FRUCTOSE CORN SYRUP, WHEAT FLOUR, SOYBEANS, CONTAINS LESS THAN 2% OF: SKIM MILK, CREAM (MILK), SALT, POTASSIUM CHLORIDE, SOY PROTEIN CONCENTRATE, FLAVORING, CITRIC ACID, ASCORBIC ACID, LOWER SODIUM NATURAL SEA SALT, MONOPOTASSIUM PHOSPHATE, SUNFLOWER LECITHIN, BUTTER (CREAM [MILK]), CREAM POWDER (CREAM[MILK], SOY LECITHIN), BUTTER (CREAM [MILK], SALT), BUTTERMILK, ENZYME MODIFIED BUTTER (MILK), WHEY PROTEIN CONCENTRATE (MILK), OLEIC ACID, PARTIALLY HYDROGENATED SOYBEAN OIL, ENZYME MODIFIED BUTTER FAT AND OIL (MILK)
The chicken noodle was no better.
INGREDIENTS: CHICKEN STOCK, ENRICHED PASTA (WHEAT FLOUR, EGG WHITES, NIACIN, FERROUS SULFATE, THIAMINE MONONITRATE, RIBOFLAVIN, FOLIC ACID), CHICKEN MEAT, CARROTS, CONTAINS LESS THAN 2% OF: SALT, MODIFIED FOOD STARCH, CHICKEN FAT, WATER, CELERY, MONOSODIUM GLUTAMATE, FLAVORING, DEHYDRATED CHICKEN BROTH, SUGAR, BETA CAROTENE FOR COLOR, SODIUM PHOSPHATE, SOY PROTEIN ISOLATE, DEHYDRATED ONIONS, YEAST EXTRACT, DEHYDRATED CHICKEN
But as I scanned nearly every label in the soup aisle, I couldn't find anything kid-friendly that I felt comfortable buying and serving my family. Was it too much to ask that a soup not have high fructose corn syrup, processed soy derivatives, or MSG? Apparently so.
Until now. Enter Annie's soups.
You see, my friends at Annie's get me. They know I'd love to be making all my food from scratch but that I don't always have time (especially when a kid is sick). They know that even when I'm buying a packaged food I want it to be made of real, wholesome ingredients. And they know that my kids will only eat something that tastes good. Basically, I'm the mom in this video.
Not only are Annie's soups free of MSG (and yeast extract – which is similar), high fructose corn syrup, preservatives and all the artificial stuff my family tries to avoid, they're also Certified Organic. Which means that by definition, they're produced without antibiotics, pesticides and GMOs. Phew.
Most importantly, my kids will eat every single variety.
The Bunny Pasta in Chicken Broth is Lucy's favorite flavor. She takes the bunny theme to the max by eating it out of her Peter Rabbit bowl and topping it with Cheddar Bunnies.
My top picks are the two tomato varieties, which taste like real, ripe tomatoes. Since they have 1/2 cup vegetables per serving I follow Lucy's lead and sprinkle a few Cheddar Bunnies or croutons on top…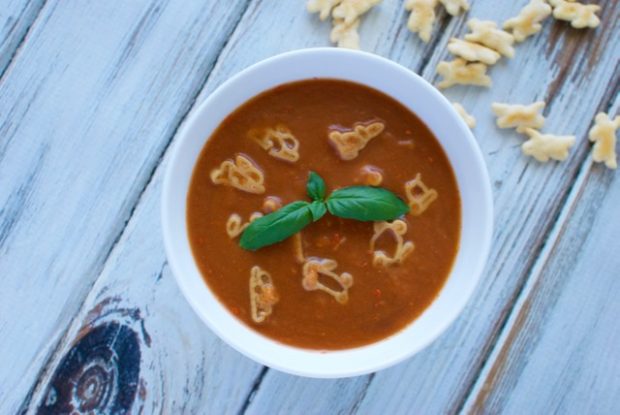 Or offer with a heart-shaped grilled cheese sandwich, for a little extra TLC.
When any of us isn't feeling well, the brothy Star Pasta & Chicken Soup is our go-to.
As with any packaged food, I try to serve the soups alongside something fresh, like a salad, a few fruits or a crunchy vegetable.
More about Annie's soups and where to find them here. Stay healthy, friends!
This post is sponsored by Annie's. As always, thoughts and opinions are 100% my own. Thank you for reading and supporting the brands that make Eating Made Easy possible!