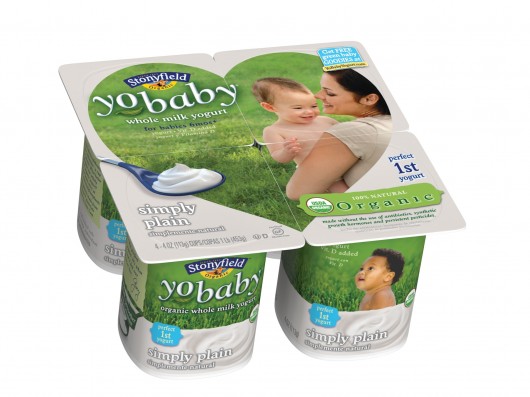 Babies don't need any dairy beyond mother's milk (or formula, if need be) until they're 9-12 months old, at which point they may require protein from other sources.  Some people do choose to introduce yogurt as early as 6 months, which is fine too.  Since yogurt is cultured and contains probiotics, it's safe for babies over 6 months.
Plain, organic, whole milk yogurt is the best choice for baby, since it has no added sugar and the most nutritional bang for mom's buck.  When I start feeding Lucy yogurt (sometime in the next month or two), it will be a mixture of these brands, which I already love and trust:
1.  Stonyfield Farm YoBaby in Simply Plain.  There's nothing baby-specific in this yogurt, but it comes in convenient individual containers, which is nice for on-the-go snacks.  Four ounces is too big of a serving for a baby, but it's a great size for toddlers and older children, and you can easily save (refrigerated of course) what your baby doesn't eat for a little later.
2.  Straus Organic Plain Whole Milk Yogurt.  One of my favorite brands of dairy, Straus produces a European style yogurt which is a little thinner and a little more sour than the American plain yogurt you might be used to.  It's absolutely delicious, and the consistency is great for babies who don't care for thicker foods.
3.  Brown Cow Cream Top Plain.  This brand is American Humane Certified, which means the cows who produce the milk for this yogurt are well-treated and sustainably raised.  Brown Cow's flavored cream top yogurts are pretty tempting, but stick to their plain version for your baby.
4.  Clover Organic Farms Cream on Top Plain.  Also American Humane Certified, Clover's farms in Northern California give dairy cows a very happy life – which translates to a very delicious yogurt that you can feed your baby without guilt.  (For you moms & dads – their Mocha and Tropical flavors make a killer dessert or afternoon pick-me-up!).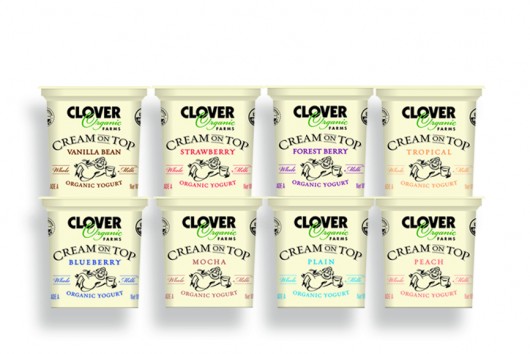 There are a handful of other companies that produce great plain yogurt.  So if you don't find these in your area, choose the local brand you like best – as long as it's organic or sustainably produced, it'll be a healthy choice for your baby.
Note – these are all yummy, nutritious yogurts for older kids and adults too!